Home Improvement Tips Everyone Should Know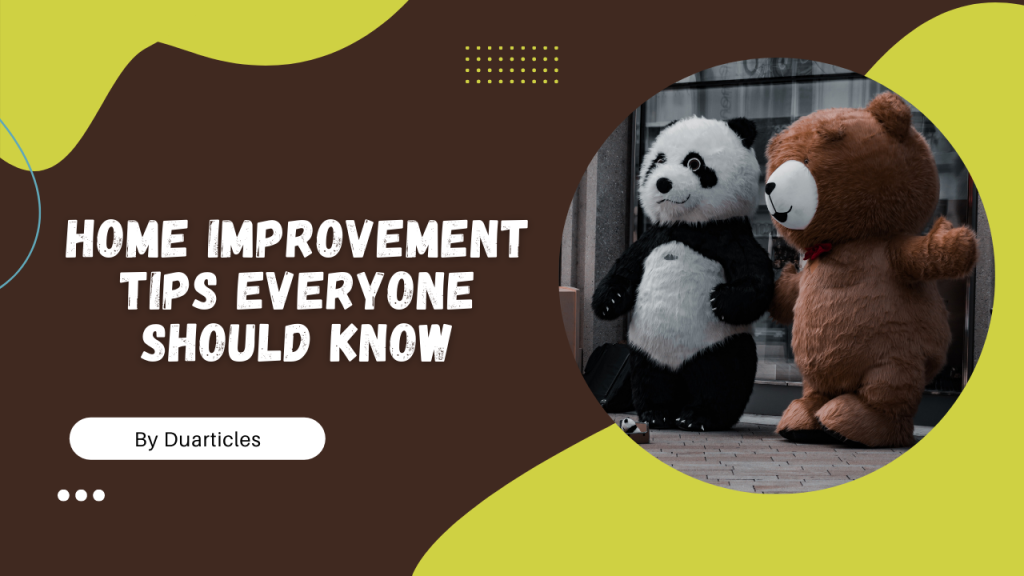 Perhaps you spend much more time at home than you are used to and pay more attention to
your living space. What about the drops, drops, drops that you hear and can no longer
ignore? Of course, there is some work in a house that should be left to professional hands,
but there are many things you can do yourself!
No need to spend fortunes to change things at home. Walking into a home improvement
store can seem overwhelming, but it doesn't have to be. Taking your project into your own
hands should feel inspiring—so walk into this store like a boss!
If you're browsing Pinterest for inspiration or have a vision in mind, you should then be
considering things such as what needs to be improved in your residence. Is it for
functionality, decor, or both? If you're thinking about throwing away your old sofas, you can
restore them instead. Do you find your walls look a bit dull? Learn how to paint a room to
transform your space. If you're overwhelmed by the idea of redoing your kitchen, try
changing some of the fixtures or redoing your kitchen with a focus on your cabinets. Here
are a few more basic home improvement skills to keep in your back pocket.
Add Some Color to Your Stairs
Buying new stairs to replace the old and lackluster ones can be very expensive. So here is
our recommendation. Paint your stairs to look like they have a carpeted floor. It brings the
homey aspect and the warm sensation of a carpet, without having to own a carpet. Elegant
metal stair railings can also enhance the style of your home. If you're going to take on this
challenge, be aware that painting is not a clean process. Even though people cover furniture
and wear old clothes, they often forget about their phone! You may think this is silly
clumsiness, but believe me, this happens a lot! Put your phone in a simple plastic zipper bag
and it's paint free and you can still use the screen.
Focus On the House Fixtures
Upgrading the room should not break the budget. Without undergoing a major overhaul, you
can get a facelift in the kitchen and bathroom by replacing knobs and handles. You can find
them at many affordable shops or in an antique store to add character and bring your
personality into your home.
Consider replacing light fixtures to change the atmosphere of the room. Think about
chandeliers in the hallway or over the dining table, or new lighting over the bathroom vanity.
Upgrade Switch Plates
It's a quick, easy, and affordable way to refresh a room. For every room, choose a finish that
mimics it. For example, you can replace all kitchen switches with stainless ones to match
your appliances and give the room a more cohesive feel. You can create your own plate with
a simple decoupage method.
Start by printing textiles in your room. It can be embroidered on a pillow, a stripe, or a
texture from a window treatment. After printing, cut the paper about 1/3 inch larger than the
plate itself, coat the front of the plate with varnish, press the paper against the plate, fold
along the edges towards the back, and trim the corners. Use a sharp knife to cut the opening
of the switch open and fold it back gently again, folding along the edges back, and then
simply brush the varnish on the back of the plate again to secure the paper. Need a break?
Enter the world of gambling and get access to slot machines! With the Big Bamboo platform,
you have a big bamboo slot demo to start playing the game. What are you waiting for?
Arrange and Show Your Photos
Many of us have boxes of old photos with nowhere to show and new photos locked on our
phones. Get rid of the traditional old photo frames and printed photo boxes and consider
going digital. With the digital frame, you can immediately upload new images directly from
your phone, bringing some variety to a static environment while keeping it updated and
clean.
Free Up More Space In Your Closet
Vertical storage systems are ideal for homeowners who have a lot of stuff but not enough
space. Start by looking for studs with a stud finder before making a shelf placement decision.
Attach the brackets/clamps and slide the shelf lath. As long as you can manipulate a drill and
a nail finder, the process should take an hour or two, no more. You can purchase kits or
make your own shelves and follow the assembly instructions.
You can also add an organization to an existing closet. Let's say you have a small closet that
is well laid out, but you need extra storage space inside it. For shelves, we recommend
adding a few inexpensive shelf dividers to create more organized stacks. Double your
hanging space with an extension cord. The cabinet door is usually unused real estate, add
hooks or hanging bars to the cabinet door. Hanging baskets under the shelf is ideal for
small items such as scarves, gloves, jewelry, hand towels, and laundry towels.
Make It Easier to Access Your Cutlery
While it seems simple, making commonly used appliances more accessible can make a
surprising difference. For example, to avoid the hassle of removing a mixer every time you're
in the kitchen baking, you can easily mount it on a lift mechanism inside the bottom kitchen
cabinet.
The lift pivots so that you can extend the mixer and place it at the working level; when you're
done using it, you can simply lower the ledge and slide it back into the cabinet.
Upgrade the Laundry Room Door
If you store your washer and dryer in a closet with doors, these doors are the key to noise
reduction.
Louvered or slatted doors are actually letting dust particles escape. As a consequence, your
The HVAC system may need more maintenance. Lynch recommends an easy DIY method that
will fix this problem. Replace your louvered door with a solid one. Also, consider adding a
hook to hang your ironing board directly from the door instead of storing it on the side.
Thanks to this, it is always within reach without taking up additional space.
Bathroom Mirror Frame
If you have a boring mirror, this is the perfect trick to make it unique. You will need a chipper
saw construction adhesive and eye protection.
First, choose a finish that will look amazing around the edges of the mirror. Measure the
dimensions of your mirror, marking the longest measurements from corner to corner.
Set the saw table at a 45-degree angle and cut. Size your pieces before applying glue and
paint, and decorate accordingly. Next and finally, apply construction adhesive to the back of
the trim pieces. We get to the final step: take duct tape and use it to hold the pieces in
place, starting at the low end and ending at the top.