When it comes to driving organic traffic on a website or to be on the top of the SERP(search engine result page), only on-page optimization is not enough.
Backlinks are the way to succeed in the SEO race. All we know is more backlinks = more traffic, But wait.. this isn't true in the year 2021. Since users are growing on the internet, people are becoming aware of digital marketing, they are not relying on orthodox methods of marketing, people have understood the evolution of marketing and they do know the outcome of strategies like social media marketing, search engine optimization, pay per click. So the method of creating backlinks that were result-driven and effective 5 years ago might not help you today, because Google is constantly upgrading algorithms to minimize the black hat SEO practices. 
Here I'm going to explain 7 Off-page SEO techniques, this will be as follows.
Off-page is a technique of acquiring backlinks from other relevant and trustworthy websites by promoting your content or building good relations.
What is Off-Page SEO?
Let's make it more simple, suppose if you sell any product or service to someone and he/she is satisfied with it, in return, they might appreciate your product or service and as a favor may suggest it to someone else as well.
Same, Getting a backlink is like someone is applauding your content, product, or service on the internet by providing you a backlink to your website. 
 Only getting more number of backlinks is not enough. Here is simple logic, when you acquire any backlink it also passes link juice to your website, the website from which you're getting the link must have a high Domain authority, page authority, and relevant to your content otherwise google will consider it as spam and your website gets a penalty. To know more about this refer to the Google E.A.T algorithm.
Types of Backlinks
Before understanding how to create backlinks you should know which type of backlink can be acquired.
1 – Do-Follow : 
Do-Follow backlinks pass the link juice/SEO benefits to your website and allow the search engine to reach your website through the link being created.
The default state of any link is Do-Follow, Any Link without a No-follow attribute is Do-follow.
2 – No-Follow :
No, Follow backlinks does not pass any link juice/SEO benefits to your website nor indicates google to crawl that particular URL.
The no-follow link won't help in getting SEO benefits from other websites but it helps to create your brand value. Yes, you heard it right, mostly no-follow links come from the Social media sites, Forum. This platform has a very quality audience and if you create content that is meaningful and provide a real-time solution to users' problems even the no-follow link can drive insane traffic to your website.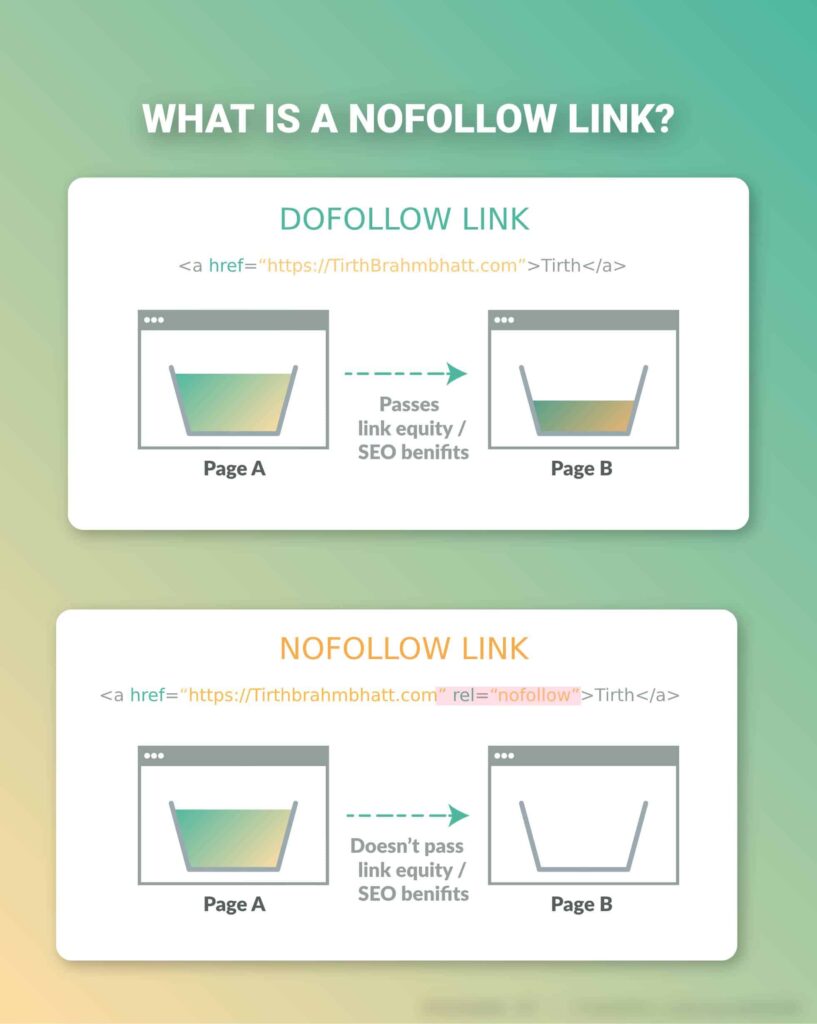 1 – Power Of Social Media
Talking about off-page SEO, Social media marketing might sound odd but the fact is it has much more power and user engagement then any other platforms, social media gives immense results if it's used as one of the off-page techniques. 
How does it help?
There are 3.81 billion active users on social media in the year 2020, in 2010 the number was around 970 million, according to one study on average we spend approximately 144 minutes on social media every day and it varies from people to people, here is a simple breakdown by continent 
North America: 2 hrs 6 min
Africa : 3 hrs 10 min
Europe: 1 hr 15 min 
Asia: 2 hrs 16 min
It is likely we find some of the useful or useless content on social media, some sort of content may interest you to know more about it or some you just scroll down, there are lots of products available online or service providers who market it through social media influencers or ads campaign and yes it does help a lot. 
2 – Competitor Backlink analysis 
It is a simple technique to find backlinks of your competitor who is ranking on the same keywords on which you are willing to rank.
Competitor backlink analysis gives you the rough idea about the backlink profile of your competitors, what type of links they have created, are they doing guest blogging, article submission, broken link building, etc.. you can do the same for initial boost and always keep eye on your competitor.
How does it help?
 This technique is most useful and I would say traffic driven strategy, but why traffic driven? let's do one thing open google and search any random keyword or write How to make a pizza at home so this is your keyword and you'll get 100 results out there but you focus on 1st SERP page, can you imagine how much traffic this 5 websites must be getting who's ranking on top 5 positions, but how did they manage to get this traffic, they must have a fulfilled google's ranking factors right and second their backlink profile is good enough so that helped them to rank higher. If you are planning to rank on the same keyword you can just check their backlink profile and find out from where backlinks are coming and pitch for your website at the same place.
Even you can use the tools like ahrefs, ubersuggest, semrush you just type your keyword and tools will give you a list of competitors who are ranking on the same keywords. Furthermore, a free backlink checker can assist in examining the quality and relevance of the backlinks obtained by your rivals. This utility will provide you with comprehensive detail regarding backlinks, like anchor text or link type with a single tap. Note them and analyze their backlink profile, do the same, follow them on social media handles and watch what type of content marketing strategy they are using, subscribe to their weekly newsletter by email, and see what type of content they are posting.
3 – Social Bookmarking
Social Bookmarking refers to websites that facilitate users to bookmark specific URLs of social media posts or websites and later based on user interest further discussion can be proceeded by people belonging to the same niche.
In simple words, the user can bookmark a URL on social sites for future reference as public so anyone can see it.
Platforms like Reddit, Pinterest, And Digg allow users to select Rooms that are kind of an area of discussion where users who have a similar interest can join and share more information and thoughts on particular posts.
How does It help?
Social sites can bring more traffic to your website if your content or post is worth, on sites like Reddit or Pinterest users often find something meaningful and tend to visit the website. It helps create brand value and trust overall.
Your content URL can also get featured if it is High quality and well written, people always love to share and discuss a topic that is meaningful and value-adding.
Always find reputed and High DA sites to post and bookmark don't go for quantity backlinks always go for quality backlinks.
4 – Infographics
By definition, Infographic is a way to represent complex information with the use of graphical representation. Infographics are the best way to define any kind of data or complicated information that won't be easy to understand by just reading it. 
How does It help? 
Let's say you have purchased a new product that you don't know how to use, but there is one user manually with 10 pages and thousands of lines and one infographic poster as a user manual which has the same information but demonstrated step by step in graphical visualization what would you choose..? Infographics Right?….
Today most marketers are using this because it helps drive more traffic to the website and even increases brand visibility, awareness, and user engagement on social media sites. Educators and trainers are adapting this new concept to teach boring and intricate topics in a fun and interesting way.
Infographics add more benefit if you incorporate within your blog or article, it's not easy to write content for a boring niche and there are more chances of less user engagement, by adding graphically appealing information you can make boring content even more interesting.
5 – Classifieds Ads Submission
Classified submissions are online websites that facilitate users to post online ads about their product or service to market their brand.
How does it help?
As you have just started working on your off-page SEO and you want initial traffic or some genuine and quality backlinks you can post your ads on these websites. It definitely helps in gaining more new traffic to your website and you can promote your brand or services too. Even you can add an HREF link and images alt tags so overall you can start with it.
There are some points you need to consider before posting your ad somewhere, always choose high DA classified submission websites because there are lots of spammy websites which can degrade the reputation of your website in google search engine eye so be careful before posting anywhere.
How to post?
Prepare content for your classified it needs to be short and crispy, try to cover all the aspects of your service or product in 2-3 paragraph, play with the title of your ad to improve your CTR, use images to display your product or discount offers, if website allows the use HREF links then you must take advantage of it, display your website link, mobile number or email so anyone can contact you easily.
These are some of the sites you can refer to and post on it.
Craigslist.org
Gumtree.com
Click.in
Claz.org
Expatriates.com
6 – Content Marketing
I assume that you have already read some of the blogs or watch videos about these SEO techniques and most of them have surely mentioned the word " Content ". But have you ever thought why content is that important? Basically content is a way to express your agenda to the people on the internet who might become your potential customer. With content, it is possible to deliver intent behind the service or product you are selling.
How to Write Content?
Keyword analysis plays a major role in content writing, content should not be written blindfolded. Here are the points which must be considered before writing content.
The intent behind writing content.
Keyword research like primary keywords and secondary keywords.
Use LSI(Latent Semantic Indexing) keywords to help Google understand your content deeply.
Proper research, clear your facts and fundamentals about the topic.
Don't try to stuff keywords unnecessarily. 
Keep it a little longer, explain in more detail with relevant data.
How to Market your content?
If the content is king then marketing is a pawn, content without marketing is nothing. Everyone on the internet is looking for information and it could be about the product, place, service, or solution to their problem. And if you have genuine content it must reach out to the potential audience. Content can market through Guest posting, Article submission, Social media, Video and image submissions, Document submission.
7 – Guest Posting
Guest blogging is a technique of writing content for another website, also known as a blog posting.
In general, if your blog has the ability to provide value to someone else's website and you both directly or indirectly belong to the same niche then this technique is beneficial for two parties.
Guest blogging provides mutual benefits for both author and website hosting the guest post.
Brings fresh traffic from other websites.
Boost domain authority using external links to high-authority domains. 
Increase brand awareness and trust of the new audience.
Give more exposure to newly launched websites or brands.
Guest posting is a very genuine and good SEO practice most bloggers and content creators follow. Because it's two-way beneficial if the website is new you should try guest posting by writing amazing, relevant, and in-depth content then reach out to the owner of the website who has a high DA and traffic flow. And if you already have a decent traffic flow then accepting guest posts would definitely help you gain more traffic through fresh unpublished content.