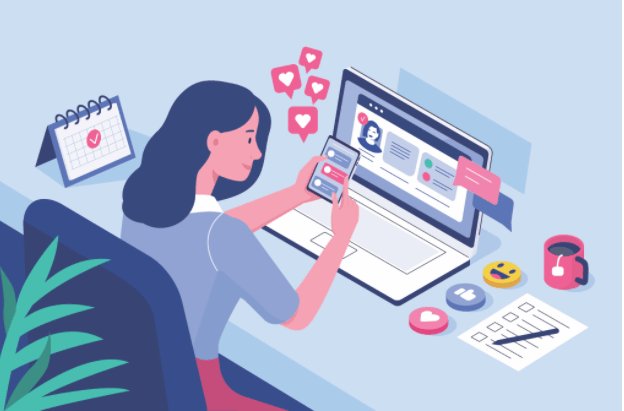 Being old-fashioned is a death sentence in today's business world. Things are gearing up towards a digital and technological age, where business transactions will most likely be done through digital channels like, if not mainly, social media.
Well, what does that exactly mean for marketing in general? Is there really such a big difference between then and now?
Mind you, social media marketing is a whole different ball game. Trends are ever-changing, customers are unpredictable, competition is fierce, and the intellectual demand is definitely there, not to mention it's pretty intimidating. With over half of the entire population of the Earth active on social media, it will be a challenge trying to learn how social media works.
So what exactly can you do about that? Well, that's easy. Get someone to manage it. No, it's not a question of whether to have social media or not, as 73% of marketers have said to experience growth that arises from their social media campaign. So, you definitely would want to have social media presence one way or the other. The trick is to find a professional to do the job for you!
What exactly can a social media manager do for your business? Take a look at the following benefits and tell me you still don't want one.
A social media manager will help you build and uphold your brand. Brand identity can either be cultivated or tarnished with just a single click on social media. Your social media manager will help you prevent the latter and focus on creating a positive image for your business across various social media channels.
A social media manager will save you time. I've made my point that social media will be quite daunting and scary for an average marketer, but a professional who knows its ins and outs will organize all the posts, content, and clients that a social media profile needs and conjures up.
A social media manager will help you achieve success and traction. Social media can be a tough nut to crack as you need to consider time, trends, quality of your posts, hashtags, and so many more things that you have to nail if you want your social media to get popular fast. Yet, that's exactly what social media managers are for. They are the experts at understanding digital behavior and trends that can help you create a respectable social media presence and will get you to places.
So, without further ado, if you're on the hunt for a social media manager, watch out for these 10 qualities that they should possess.
#1 Sociable and communicative
Let's start with the basics. In the name itself, a social media manager should be sociable enough to cater to all the different beasts on social media.
Communication is the first step to building relationships, and social media is a place that thrives on just that. However, this means that it can cause impending doom for those who are reckless when it comes to communicating online, wherein one wrong move may mean a big loss and damage in brand reputation.
Social media managers should be calm, respectable, and polite when dealing with customers and clients. They know the right words and responses that make them feel, see, and not be neglected.
All in all, your social media manager should do their best to create a social media presence that radiates positivity and comfort.
#2 Humorous
Look, people will naturally gravitate to funny people and bring humor to an entire group of people.
They're the life of the party, the soul of the circle, and the person everyone looks for when they're down and having a bad day.
Now, why does this matter? Well, it would be nice if your social media has that essence, being capable of cracking a joke here and there and establishing a bubbly and fun social media presence. Not only can this act as an icebreaker to new customers, but it can also make your business look easier, more comfortable, and approachable. It will not be intimidating, and people will know that they interact with a human and not some corporate robot or AI.
Yes, make sure that your social media manager knows how to relate to both Gen-Z humor and millennial comedy, and you'll be surprised how much it helps out in the long run.
#3 Analytical Thinkers
Social media managers should not just post whatever they like, whenever they want. The first part of their job should always be to analyze.
Social media is about results and engagement, and without any of those, you're just going downhill even if you haven't reached the peak yet. Social media managers should find ways to measure how their performance is doing through the tools offered by the social media sites themselves.
Analyzing well can lead to better strategies, better content, and a more streamlined workflow. This way, you will know what's working and what's not.
Make sure that your social media manager knows how to analyze numbers and work on them.
#4 Adaptability
Facebook, Instagram, Twitter, Reddit, Tiktok. All of those are not even remotely similar to one another. They are used for different reasons and have different algorithms, users, and guidelines. Every year, the developers implement new changes depending on the trends and performances of their apps in the previous year.
Your social media manager needs to be able to handle that.
With the turbulent nature of social media, social media managers should adapt quickly and efficiently to whatever the digital storm brings, whether it be a new algorithm, trend, market, or even feature.
Instagram won't always be the number one destination for good photos, and TikTok won't always be the standard for fast-paced video content. But whatever's next, your social media manager must be able to study it and work on it just as effectively.
#5 Writes Well
Being a social media manager, you need to be flexible in many skills. Communication, design, math, and even literature.
You don't need to be the Shakespeare kind, and you don't even have to read that many books. As long as in social media, you will be able to get the point across through your words for captions, stories, or even conversations. As we all know, better words mean better engagement.
#6 Creative
Though it's essential, it is also not all about talking and questioning. Your social media manager should also be able to create content.
Not just any content, visual content.
Being somewhat knowledgeable in creating designs that are fit for social media will be incredibly beneficial to your business because it's been found that posts with visuals perform 650% better than those without any. That's a pretty astonishing difference if you ask me. If creative contacts are not available, your social media managers should know how to combine two photos, so you do not have to worry about hiring an artist for it.
You must test out if they know their way around graphic automation tools and creative automation tools because this can measure how knowledgeable they are in that field.
Therefore, your social media manager should be aware of this and know how to create the right visuals themselves or have the skills to combine two photos simply. It will save you time and money and make much more buzz for your social media campaigns.
You can test out their creative knowledge by determining if they are familiar with graphic design automation tools such as Adobe, Pixelied, DesignStripe or Pixelixe. These tools have features that can help you remove backgrounds, use templates, choose a variety of palettes, crop and resize, and combine two photos.
#7 Knows the business
And yes, communicating, questioning, or creating designs is vital, but there is still more to that. After all, we are in the business world, so your social media manager needs to know how social media blends in business dimensions.
Knowing how to read business parameters, demographics and analyze how their social media is performing business-wise is a quality that is needed from a social media manager. You might need to require your social media manager to have it.
A tip? Use Google analytics to help you measure and see how your websites are doing in terms of traffic.
#8 Emotional maturity.
Social media can be a bit harsh sometimes. Actually, most of the time.
Backlash is almost inevitable with every post that you make. Those bashing are not only from designated experts and professionals regarding a topic. They are quite literally from anyone and anywhere around the world.
It can take quite a toll on your mental health and confidence if you don't know how to deal with the negativity that comes with being active on social media. This is precisely why you need your social media manager to be firm when it comes to mental stability.
They should be aware that feedback is merely insight into what they might be doing wrong, which is irrelevant to their work ethic. They should not be bothered or engage in any negativity and act negatively towards potential clients.
Social media is not a place for softies, so make sure your manager knows how to handle bark and bite.
#9 Organized
From the get-go, trying to create a relevant account on multiple social media platforms is something fit for superhuman levels of charisma, intellect, and communication skills. Also, it takes a hell of a lot of organization to do.
So as with anything else in life, social media managers need to have a sense of flow.
They need to have their schedules, know when things should be done, and maintain this consistent work ethic by following a robust work plan.
Knowing when to mark dates on the calendar and knowing whether their limitations can fulfill their promises might just be what it means between relevant or biting the dust of your competitors.
#10 Always on time.
Being on social media means you always have to be on time.
You have to be the first to know the trends and quickly answer questions because over 79% of users expect businesses to reply to their inquiries no later than one day. Whoever acts the quickest will be the first to capitalize on new opportunities. Being up to date with trends will prevent you from looking tedious and clueless, qualities that will turn some people off. News travels fast, and you have to keep watch on its track if you don't want to derail yourself.
However, being on time does not always mean being the first or diligent. It also means being aware of the time people are most active on social media. Take, for example, Instagram. It is advised that marketers and advertisers should post at around 10-11 am during Wednesdays and Fridays and avoid posting on Sundays because it often means less engagement.
Social management is a necessity.
Out in social media, it is all about survival here. It is easy to get lost and lose track of your goals and how your overall business is performing, so doing everything alone will just result in you working yourself to death without any sort of fruit of effort. So, don't shy away from investing in social media and for someone to manage it because it will undoubtedly lift some weight off your shoulders and assure great returns in no time.