Top 10 Digital marketing trends must follow in 2022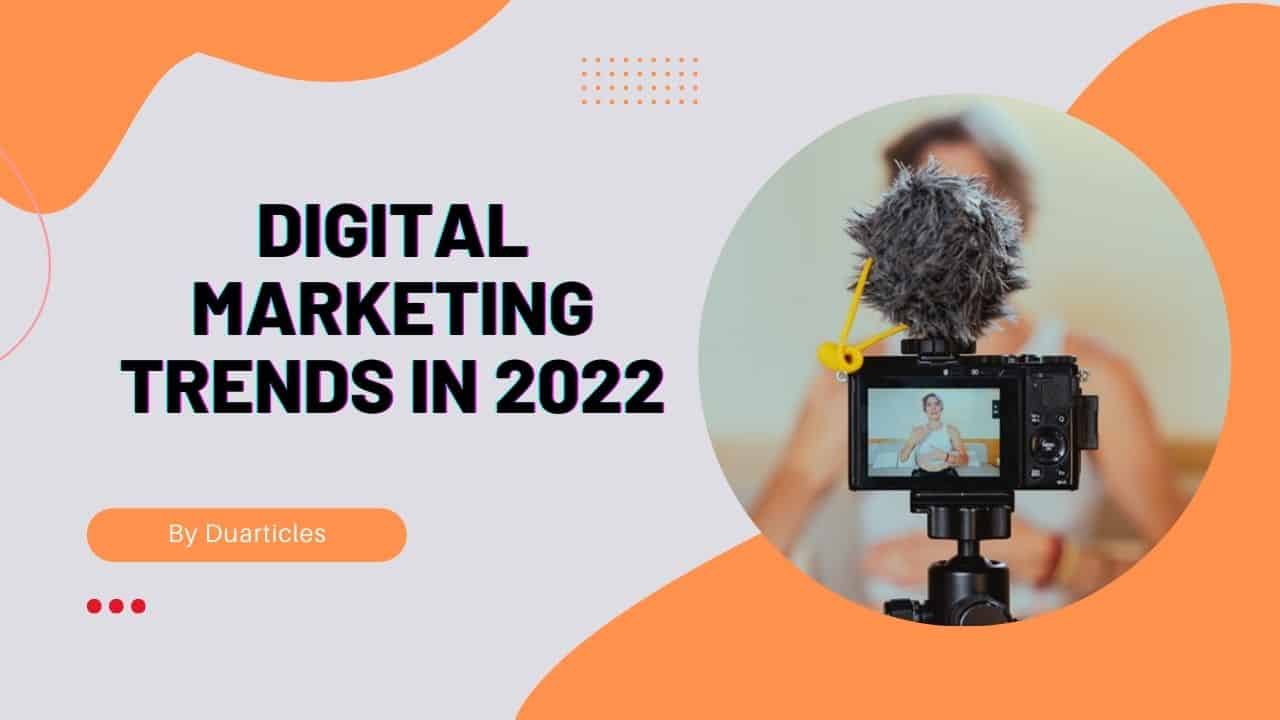 Maintaining a competitive edge in digital marketing requires more than simply comprehending and using fundamental industry principles.
Digital media is dynamic and ever-changing, and your target audience is no exception. Trends in the marketing sector can come and go as swiftly as they do in fashion, technology, and popular culture.
Things that worked well for your digital marketing plan a few years ago may not work as well now.
However, it is relatively simple to stay one step ahead of the competition. It's possible to predict the following year's marketing trends by examining the past and keeping an eye on current developments.
Here are some top digital marketing trends for 2022 that might help you better understand and plan for the year ahead.
Here are the best ten digital marketing trends to watch out for in 2022
Prioritize the use of video marketing
You already know how vital video marketing is, as it has been dominating the industry for years and will continue to do so.
Long-form writing on mobile displays is uninteresting and takes too long to read; therefore, people prefer videos.
Simply producing any video does not suffice to interest the target audience. But today, we have access to all of the resources we require thanks to increasing smartphone use and video maker online, which, when paired with little time and work, can produce incredible outcomes that will raise your business and brand to the next level.
Also, keeping up with current video marketing trends, including mobile live streaming, user-generated videos, video advertisements, short-form videos, and interactive AR content. 
Short-Format Video Content
Short-form video content will gain much more popularity globally in the coming years. Gen-Z favors shorter videos over longer ones on TikTok, Instagram Reels, and YouTube Shorts, which are currently in vogue. This is primarily because the typical human attention span is decreasing all the time!
While long-form video content will continue to exist, short-form video content will garner more views and generate more engagement in 2022.
As a result, marketers should condense their messaging into videos no longer than 60 seconds in length.
Artificial Intelligence in the field of Marketing
Artificial intelligence (AI) is the most important digital marketing trend in 2022. AI will help businesses figure out who their ideal customers are and how to reach them effectively.
You can target customers with the right product or service at the right time by utilizing AI to forecast their next move.
Businesses benefit from artificial intelligence in various ways, including improved communication, data analysis, consumer behavior prediction, and the ability to make fast choices.
Artificial intelligence (AI) is widespread among commercial giants like Amazon, Google, Netflix, Spotify, and others.
Most of the material we see on social media sites has been fine-tuned by AI to keep the audience engaged for longer!
Voice search may finally start to become a big thing
How often have you accessed the internet by simply speaking to your virtual Amazon or Google assistant rather than typing it into a browser? First, you should be familiar with the advantages of using voice search.
Voice search is not just fashionable these days; it is also helpful. It's becoming an increasingly important aspect of how practically everyone discovers the information they're seeking.
It may include information about items, services, or companies they are interested in learning more about.
Voice-activated ads are only a few years away, so now is the time to start preparing your content to be used by Alexa or Google when a user asks a question.
Virtual assistants will soon begin to return sponsored content, relevant replies and other relevant information.
Make your message more personal
Personalization is expected to play a significant impact in the year 2022. Personalized emails, products, content selections, and so on help clients feel catered to while reinforcing a tight, personal relationship with brands.
However, a narrow line exists between personalization that handles beneficial and personalization that crosses the line and becomes creepy.
Learning about your audience's preferred platforms and how they use them allows you to tailor your messages to each group.
Human-first data experiences that consider the consumer's preferences for how their data is utilised will be massive in 2022.
No clicks are required to search
Highlighted snippets are becoming increasingly popular in search queries, and we all desire to optimize for Google.
However, that could be a problem for certain digital marketers, who continuously strive to achieve the highest possible ranking for their content.
It means that Google will most likely use a chunk of it and display it directly in the SERP.
In this case, the user would most likely only read the most significant parts of the material and never come back to your site.
That is unavoidable. Reevaluate your material and focus on topics that require more substantial explanation. Examine the featured snippets for various search queries and assess if they are valuable.
Influencer marketing
Those who use social media platforms are aware of the term "influencer marketing," which is a trend that continues to grow.
In this form of marketing, a person known as an influencer spreads the word about a company to a bigger audience. In the future, influencer marketing methods will not be confined to celebrities with a massive number of fans.
Instead, Micro and nano influencers will become necessary as organizations seek to broaden their digital marketing strategies.
Micro-Influencers are the change-makers.
Stories are essential for your brand. And, when it comes to telling a narrative, micro-influencers have the most potential for making a difference.
These influencers have fewer followers than celebrities, yet they are thought-leaders or topic experts in their fields. And they have a significantly higher level of engagement than superstars or mega-influencers.
Non-Profit projects & CSR Campaigns
In 2022, it's time to consider the environmental impact of marketing. Non-profit efforts have a tremendous effect on enhancing corporate recognition and consumer impression of the company.
Community service efforts, sometimes known as CSR, are becoming increasingly popular in marketing. Corporate social responsibility (CSR) impacts the company's image in the eyes of its target audience.
Marketing focuses on a specific location
Location-based marketing isn't new, but it's evolving in fascinating ways that digital marketers should know about. Modern technology like geofencing, which permits real-time location-based targeting, will increase this component of digital marketing.
Using geofencing, marketers can reach their customers in real-time as they daily routines. Geofencing is increasingly being applied to help consumers find services more quickly in real-time.
This trend is projected to gain momentum in 2022 as platforms like Google, Facebook, and Instagram integrate location-based targeting.
VR, AR, and Metaverses are the most talked about subject
The market for the metaverse is expected to reach $800 million by 2024, and the main goal of the metaverse is to make the digital world feel real. The more you understand about it, the more you will be able to prepare your company for it.
Compared to the metaverse, virtual and augmented reality have been around for a lot longer. Many people use VR and AR even though they don't own a headset.
If you've ever tried on an outfit or used Snapchat filters, you're probably a VR/AR user. Brands are integrating augmented reality and virtual reality to personalize their marketing efforts to increase sales.
Progressive Web apps
These kinds of websites function in the same way as mobile applications. Progressive web pages provide the capabilities of a native mobile application on a web browser.
It's faster to load, has push alerts, works offline, and uses the physical device, among other things. So the companies' developers construct web apps that work as mobile apps.
Keep an eye on this trend as we approach 2022, and get ready to take advantage of it!
Conclusion
The world of digital marketing is persistently changing as new trends and strategies emerge. Some of these trends may be more straightforward for your company to adopt than others.
To stay ahead of the game and acquire your goals for the year, you must conduct thorough research, planning, and strategic planning.