Hospital Ice Chips | Make Same At Home Without Machine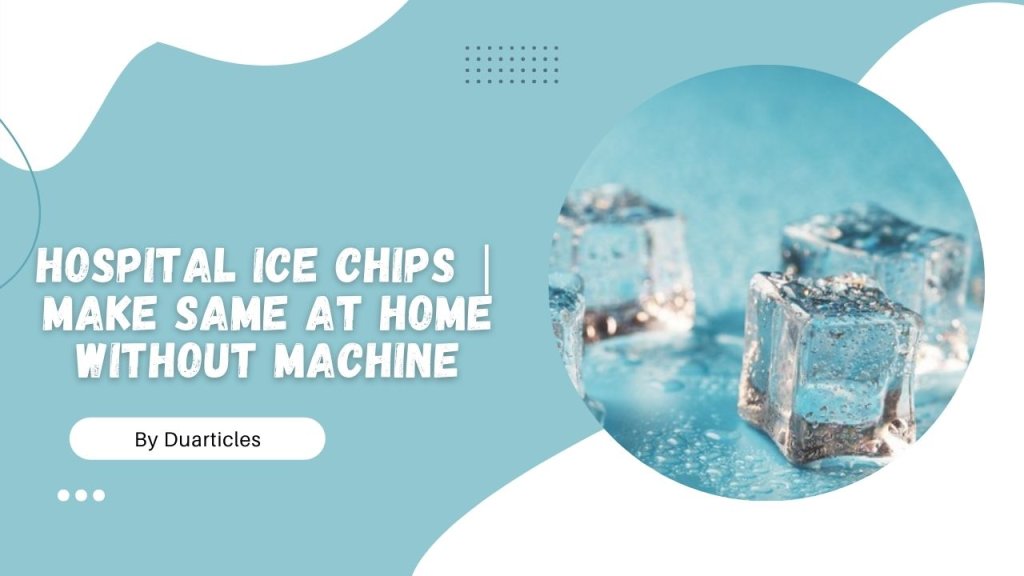 In this Article I have covered, What are Hospital Ice chips, How to make hospital-like ice chips at home, and the Cheapest option to buy Hospital Ice chips.
You must have wondered why hospital ice tastes so good. Isnt it?
Even I do.
So, I did my research on various platforms and asked some medical professionals to find out what hidden ingredients you add to make it satisfying to eat.
And you know what, I'll tell you exactly what they told me and as a bonus, I have the secret recipe to make hospital-like ice chips at home.
Stay tuned and read till the end.
What are Hospital Ice Chips
Hospital ice chips are small pieces of ice made from clean and pure water to provide a soothing and refreshing experience to patients who are not allowed to drink or eat anything due to some reason.
Patients who are on certain medications or preparing for a medical procedure like surgery are not allowed to eat or drink anything before and after.
So doctors give them ice chips to stay hydrated and ease discomfort in the throat.
However, ice chips only provide some relief from pain and discomfort it does not provide any nutrition or can be used as a substitute for food and water.
What makes Hospital Ice Chips Different from Normal Ice Chips
Hospital ice chips are made of clean and filtered water with tiny pores in it to absorb whatever liquid they're floating in.
Whereas, normal ice cubes are made of normal and unfiltered tap water by cooling it down enough to freeze solid.
Because of this making process, hospital ice chips are comfortable to bite and patients can enjoy the crispiness.
Whereas, normal ice cubes are hard to chew because of the different making processes as compared to hospital ice chips.
How to Make Hospital Ice Chips
I know you are eager to know about this part. And I'm going to tell you two ways to make ice chips like a hospital at home.
Here are the two ways to make hospital ice chips at home
Make Ice chips like a hospital without the machine
Step 1. Fill clean water into ice cube trays
Step 2. Put the tray into the freezer and wait until the water is frozen solid.
Step 3. Remove the tray from the freezer and keep it outside at room temperature until the ice becomes partially thawed.
Step 4. With the use of knives, chop that ice into small uniformed peace.
Step 5. Store the chips in a clean container or bag to use anytime.
Make Ice chips Like a Hospital with a machine
Step 1. Get the ice machine from an online marketplace or any store near you.
Step 2. As Given instructed by the manufacturer, pour the clean water into the ice machine.
Step 3. Turn on the ice machine to produce small and uniform chips of ice.
Step 4. Wait till you get the desired amount of ice.
Step 5. Transfer the ice into any container or bag to use later anytime.
Where Can I Buy Hospital Ice Chips
Unfortunately, you can not buy readymade hospital ice chips. However, there are a variety of ice chip maker machines available online that can help you to make a hospital like ice chips at home in just one click.
Here are some of the best picks for Ice chip makers.
1. ecozy Portable Ice Maker Countertop, 9 Cubes Ready in 6 Mins
2. XDS Portable Ice Maker for Countertop
3. Zlinke Portable ice maker
4. COSTWAY Nugget Ice Machine
Why Do Hospital Give Ice Chips
The purpose of hospital ice chips is to provide relief to patients from discomfort and dryness in the throat.
In most cases, patients are not allowed to eat or drink anything before and after the surgeries.
In this case, to keep patients hydrated, hospital ice chips are served to them.
These ice chips are not as hard as homemade ice because the process of making these ice chips are different. They are small size of crunchy square cubes and so easy for the patients to keep in their mouths to melt them down automatically.
Why Are Ice Chips Good In Hospital
As I said earlier in this article, hospital ice chips are not like simple homemade ice made in the freezer.
Hospital Ice chips are made to be easily eaten by patients suffering from discomfort in the throat or not allowed to have food and water before and after their surgeries.
Hospital Ice chips are made in the machine so it is in the perfect small and square shape. Moreover, it has small tiny gaps inside to easily absorb all flavors of whatever to add in.
However, at home, we can not make exact ice chips like in a hospital without using a machine because the normal ice-making process is to let the water freeze until it becomes ice.
But, the process of making hospital ice chips is way more uniform and precise so patients can enjoy themselves while going through the tough time physically.
Final Words
So, I have explained all to you like what is hospital ice chips, how to make them, and from where you can buy a professional machine. I hope that this article has cleared most of your doubts regarding the hospital ice chips topic and stay tuned to read more information articles like this.