Jackie Chan Movies | Top 15+ movies of Jackie Chan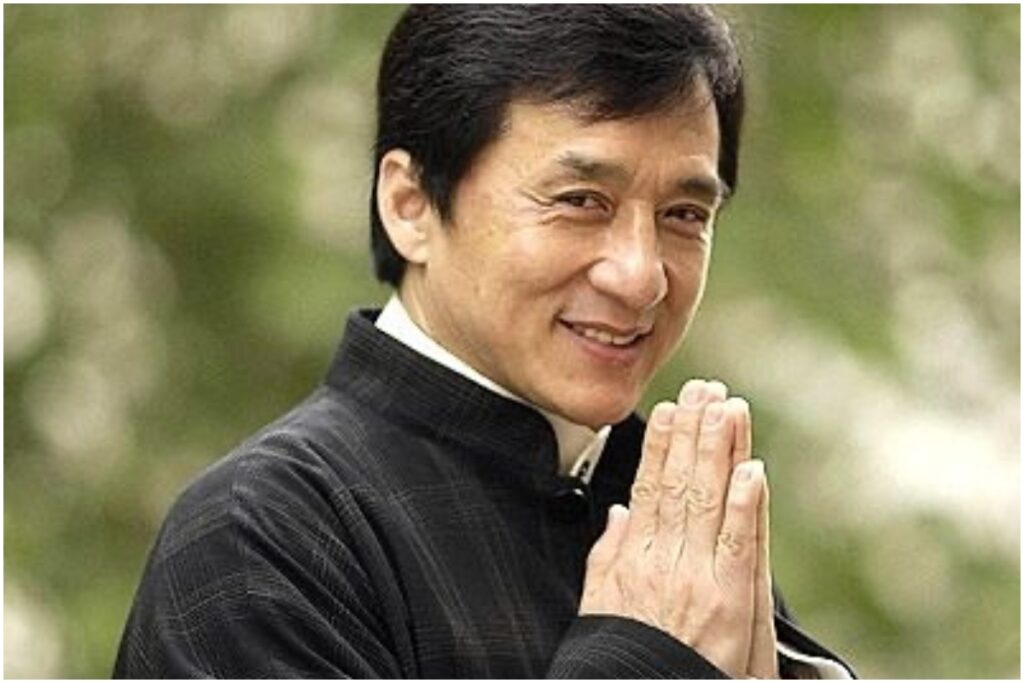 Jackie Chan (born Fang Shilong SBS MBE PMW) is a Hong Kong-born Chinese actor, director, martial artist, and stuntman best known for his slapstick acrobatic fighting style, comic timing, and creative stunts, which he usually does himself.
Here are the top Jackie chan movies that you must watch. Movies are listed on the bases of IMDB ratings of it. On the topmost rated and at the last least rated.
Check out this list 
Top Jackie Chan Movies
1. Drunken Master (1978)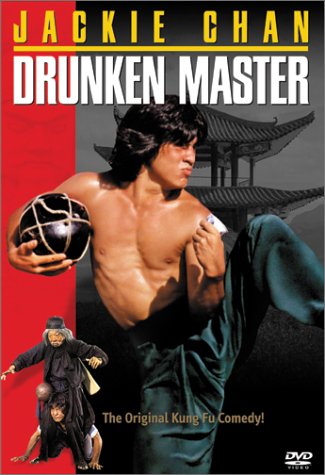 IMDB Ratings – 7.5/10
Available On – Prime videos, roku
Wong Fei-father hong's has been trying to educate his son in kung-fu but finds him too rebellious to teach and sends him to his uncle, a harsh and painful instructor of the 8-Drunken Genii kung-fu. The son returns after much hardship to save his father from an assassin.
2. Drunken Master 2 (1994)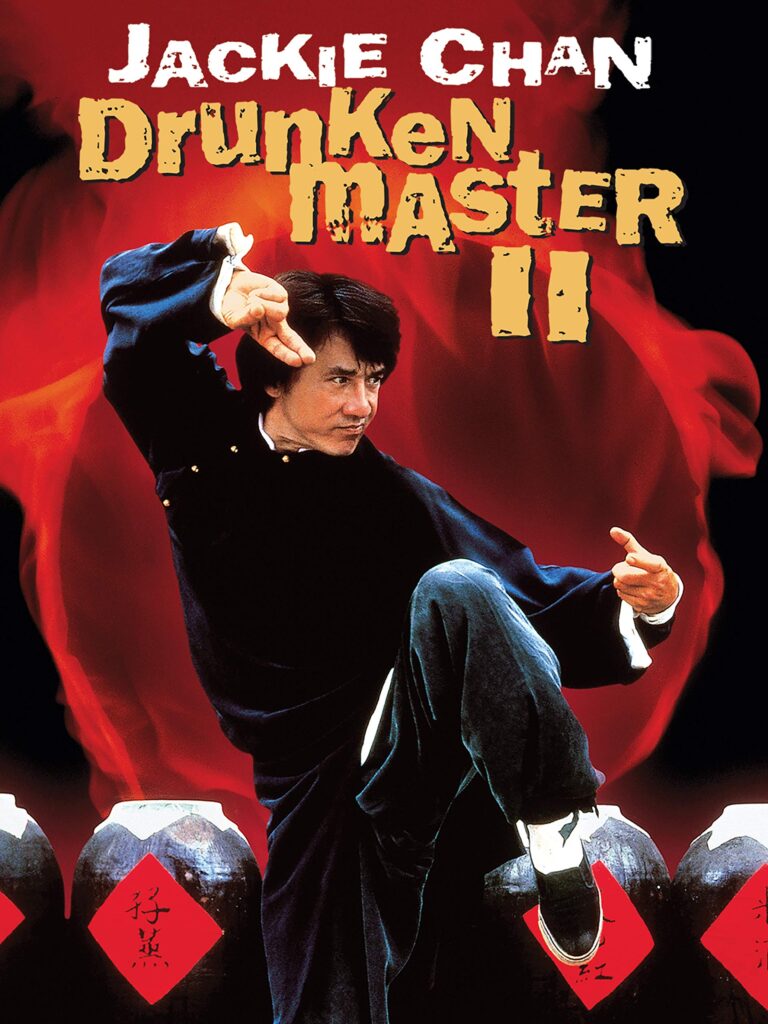 IMDB Ratings – 7.5/10
Available On – Prime videos, roku
Wong Fei-Hong gets accidentally caught up in a fight between foreigners who want to sell ancient Chinese treasures and loyalists who don't want the items to leave the nation when he returns home with his father after a shopping trip. Fei-Hong has mastered a combat style known as "Drunken Boxing," which makes him a fearsome opponent. Unfortunately, his father forbids him from fighting in any form, let alone drunken boxing. As a result, Fei-Hong not only needs to combat the foreigners, but he also has to overcome his father's opposition.
3. Project A(1983)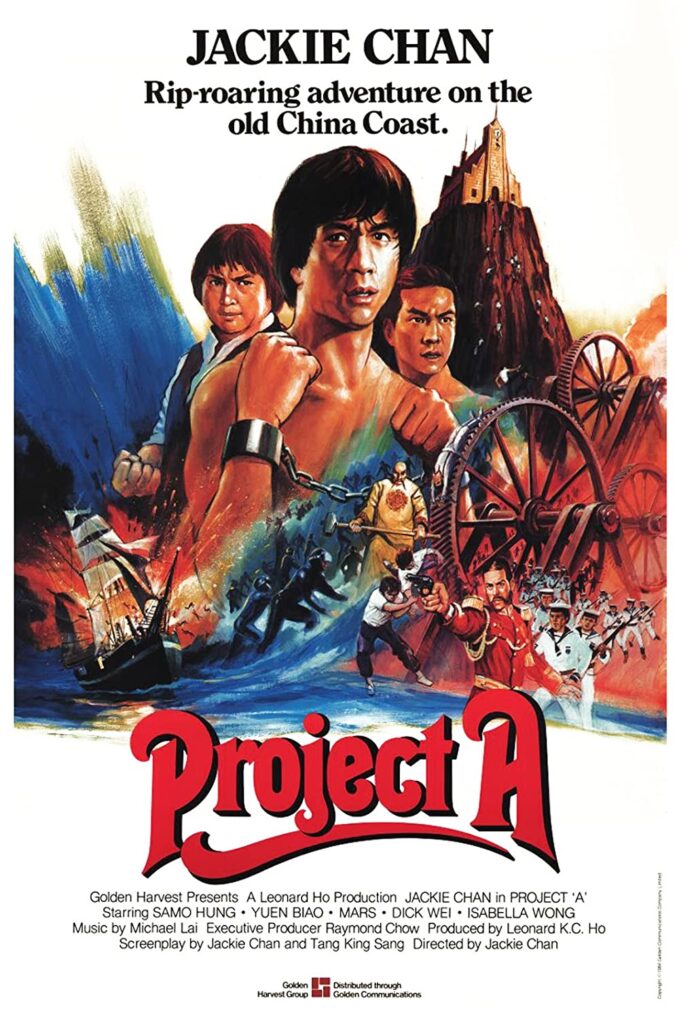 IMDB Ratings – 7.3/10
Available On – youtube, TV, Prime Video, Vudu Movie & TV Store, Redbox., VUDU or Apple TV on your Roku device
The British may govern the land in late-nineteenth-century Hong Kong, but pirates command the seas. The Coast Guard is reluctantly granted money to battle these pirates, but the pirates have numerous contacts (that is, bribed officials) in the government, and they aim to impede the Coast Guard's efforts to destroy them. Dragon Ma, a Coast Guard officer, is adamant that his beloved Coast Guard will not be made a mockery of.
4. Police story (1985)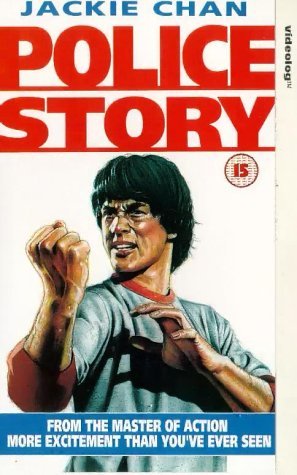 IMDB Ratings – 7.5/10
Available On – Netflix
Kevin Chan (aka Jackie) is a Hong Kong officer who gets his first major break by almost single-handedly apprehending and apprehending a powerful drug kingpin. Naturally, the drug lord isn't pleased and frames Kevin for the death of another officer (who happened to be on the take). Kevin must clear his name while avoiding being killed or incarcerated, as well as protecting his lover from abandoning him.
5. Armour of god 2(1991)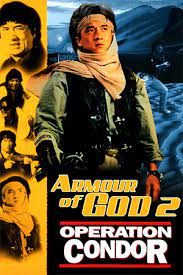 IMDB Ratings – 7.2/10
Available On – Netflix, zee5
Jackie Chan stars as Asian Hawk, an Indiana Jones-style adventurer looking to make a fortune in exotic antiquities. After Hawk discovers a mysterious sword in Africa, a band of Satan-worshipping monks kidnaps his ex-girlfriend Lorelei, demanding the sword as ransom as well as other pieces of the legendary Armour of God – a magical outfit dating back to the Crusades.
6. Police story 2 (1988)
IMDB Ratings – 7.1/10
Available On – Netflix
Kevin Chan's unconventional approach to his profession as a police officer finds him reassigned to the traffic section, despite his success in apprehending criminals. Despite this, the man he imprisoned is now free and has promised to make his life a living hell. The police are considering reintroducing Kevin to assist them combat a cell of bombers seeking to extort $10 million from building owners while this criminal leader harasses Kevin and his girlfriend.
8. The foreigner (2017)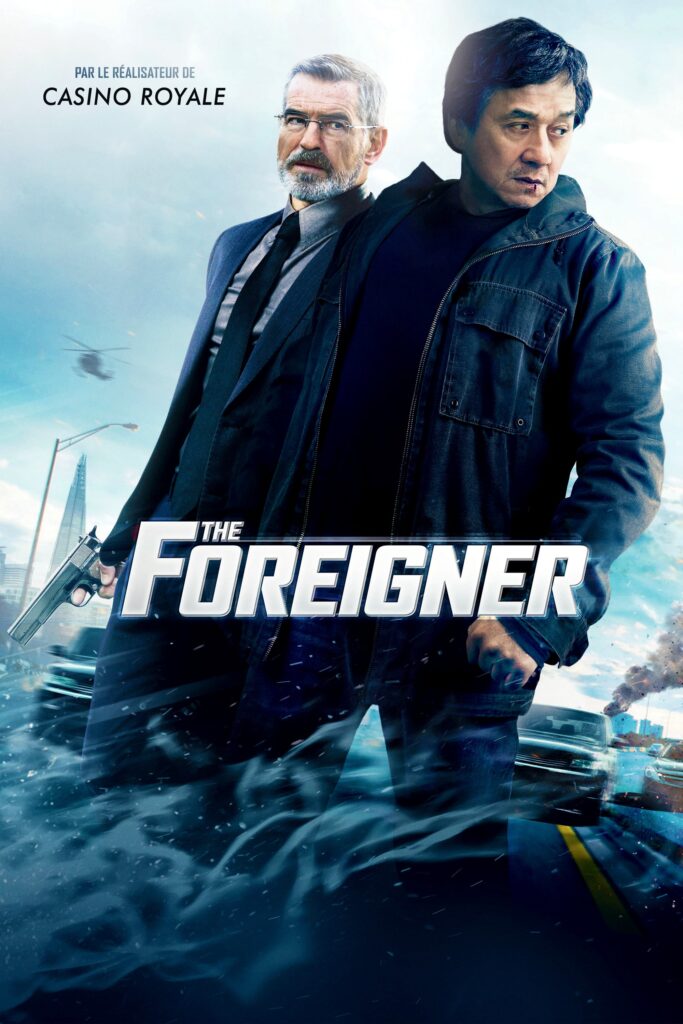 IMDB Ratings – 7.0/10
Available On – Netflix
The narrative of Quan (Chan), a lowly London businessman whose long-buried history bursts into a revenge-fueled vendetta when his last remaining love, his teenage daughter, is abducted in a senseless act of politically-motivated terrorism. In his never-ending hunt for the terrorists' identities, Quan finds himself in a cat-and-mouse game with an Irish government officer (Brosnan), whose own background may offer clues to the perpetrators' identities.
9. Rush Hour (1998)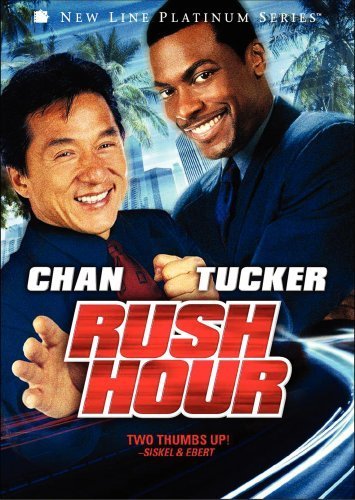 IMDB Ratings – 7.0/10
Available On – Hungama Play, Amazon Prime, Tata Sky, Vodafone Play, Netflix.
As two detectives from opposite worlds, Detective Inspector Lee of Hong Kong and Detective James Carter of the FBI, a big-mouthed work-alone Los Angeles officer, discover one thing in common: they can't stand each other, cultures collide and tempers boil. With time running out, they must band together to apprehend the culprits and save Soo Yung, the Chinese consul's eleven-year-old daughter.
10. Armour of god(1986)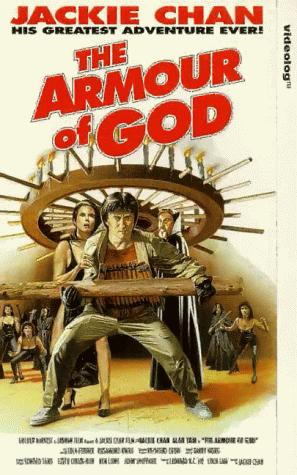 IMDB Ratings – 6.9/10
Available On – Netflix
Jackie Chan plays Asian Hawk, an Indiana Jones-style explorer in search of a fortune in antiques from throughout the world. Hawk's ex-girlfriend Lorelei is kidnapped by a band of Satan-worshiping monks after Hawk discovers a mystery weapon in Africa. They want the sword as well as other components of the famous Armour of God – a supernatural garment going back to the Crusades – as ransom.
11. New police story(2004)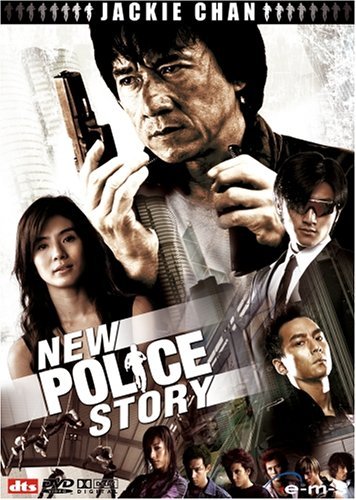 IMDB Ratings – 6.9/10
Available On – Netflix
Inspector Wing of the Hong Kong Police Force has been kidnapped by a gang commanded by the villainous Joe. Wing becomes a hopeless drunk when his whole squad is slain, feeling responsible for their deaths. A troubled young guy impersonates a police detective working on the case with Wing in order to help him get back on his feet and go on a journey to exact revenge on the wicked Joe and his Gang of Five, especially when it becomes personal.
12. Police story 3(1992)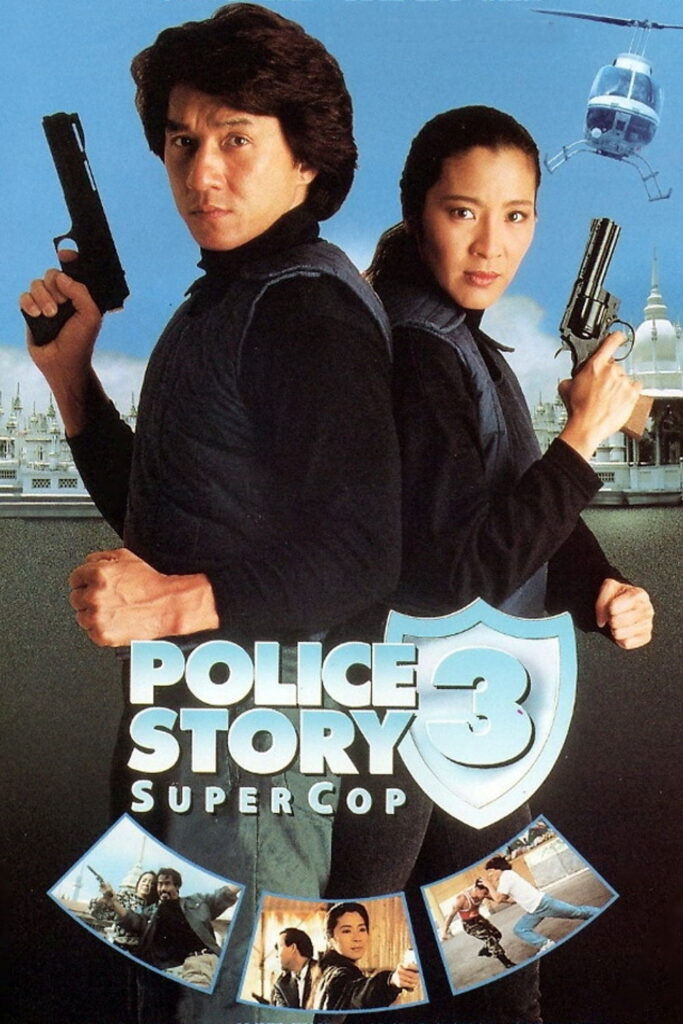 IMDB Ratings – 6.7/10
Available On – Netflix
Inspector Chan Ka Kui (Jackie Chan) goes undercover in a Chinese jail to uncover a narcotics syndicate. By breaking Panther (Yuen Wah), a cartel member, out of prison, he gets Panther's trust. They proceed to Hong Kong with the aid of another undercover agent (Michelle Yeaoh) and join Panther's gang. The gang's boss (Ken Tsang) accepts Ka Kui, but his plan is compromised when Ka Kui's lover (Maggie Cheung) inadvertently discloses his actual identity.
13. Rumble in the Bronx(1995)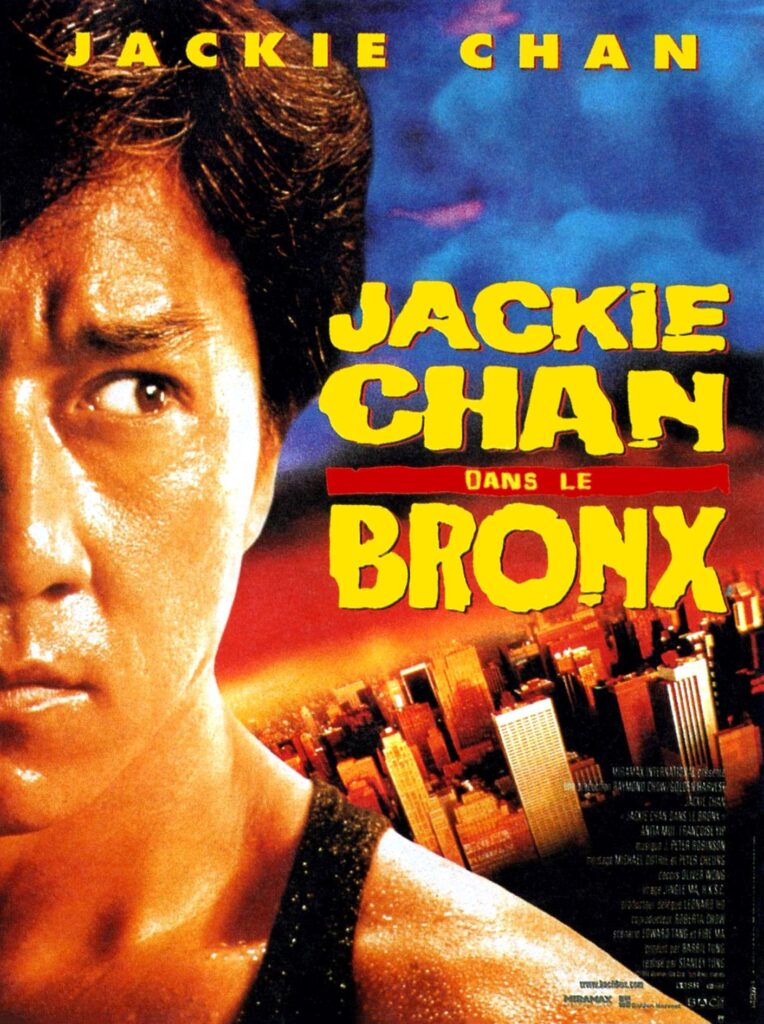 IMDB Ratings – 6.7/10
Available On – Roku Channel, Vudu Movie & TV Store, Prime Video, Apple TV or VUDU
Keong travels from Hong Kong to attend his uncle's wedding in New York. While his uncle is on his honeymoon, Keong agrees to help out at his uncle's market in the Bronx. Keong befriends a neighbour youngster and knocks up several local gangsters who cause trouble at the market during his stay in the Bronx. Meanwhile, one of the local gang's small goons gets himself into a dangerous criminal scenario. His involvement brings his gang, the youngster, Keong, and the entire neighbourhood into a fatal crossfire because he is blinded by money. When the inept cops fail to fix the problem, Keong takes matters into his own hands. Needless to say, there will be plenty of dazzling kung-fu and wild action moments.
14. Police story 4 (1996)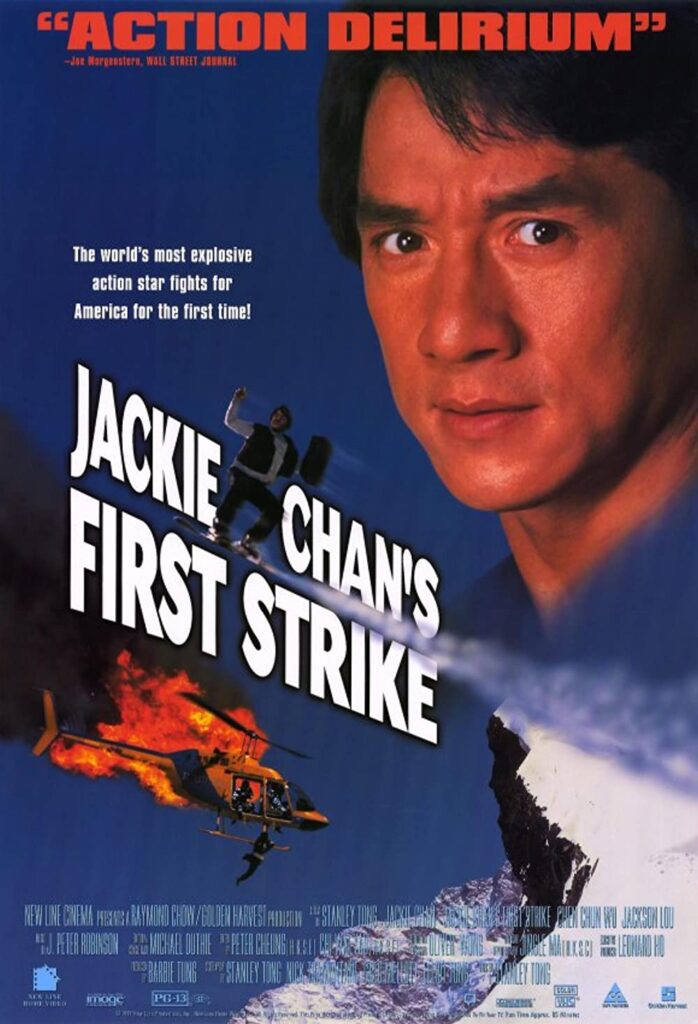 IMDB Ratings – 6.5/10
Available On – Hungama play
Jackie, a policeman, takes part in an international espionage ring sting operation. When one of them (Tsui) manages to flee, Jackie is tasked with apprehending him. Jackie is led all around the world, beginning with Tsui's sister in Australia. The plot follows him as he fights to stay alive while tracking down the culprit.
15. Rush hour 3(2007)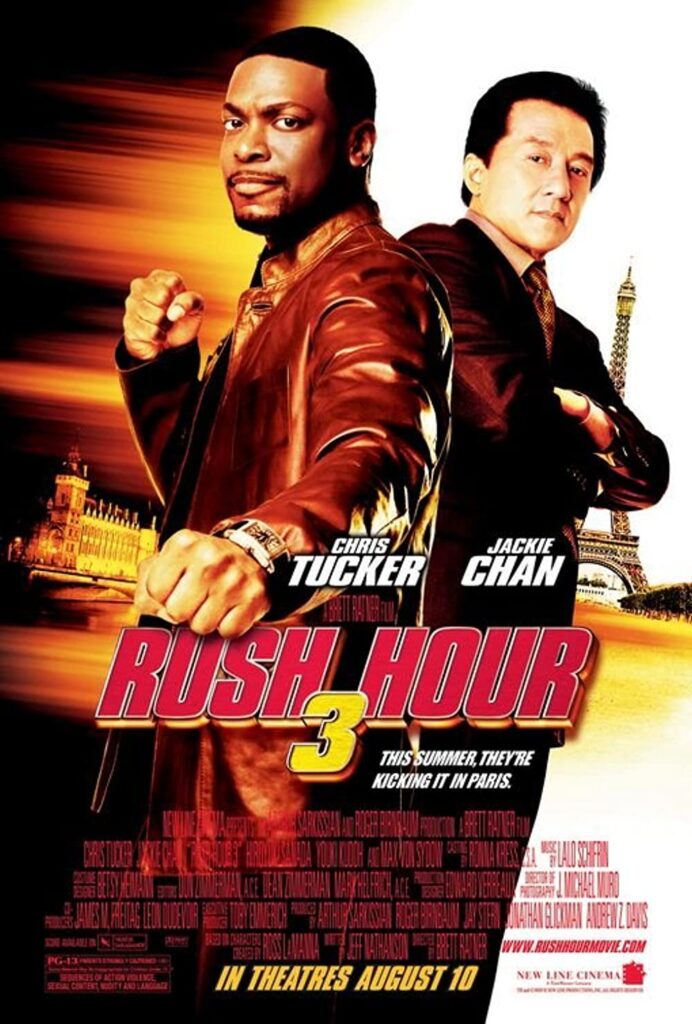 IMDB Ratings – 6.5/10
Available On – Netflix
Carter is now a Los Angeles traffic police, almost three years after their previous adventure in Rush Hour 2 (2001), while his buddy and ace Hong Kong Police inspector, Lee, guides the Chinese Ambassador, Han, to the World Criminal Court to provide important information about the Triads. However, following a failed assassination attempt, the mismatched couple will find themselves in gorgeous Paris, attempting to obtain a valuable list of names while being pursued by the homicidal criminal syndicate's thugs. Lee and Carter must once again fight their way through deadly thugs, but this time, Lee's history has returned to haunt him. Will the lads be able to finish the job once and for all?
16. The Accidental Spy(2001)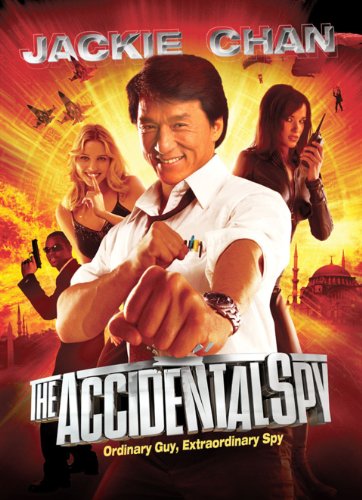 IMDB Ratings – 5.8/10
Available On – Netflix
Bei, a salesperson at an exercise equipment store who dreams of adventure, is the protagonist of this action film. It all starts when Bei follows his instincts and follows two suspicious-looking individuals into an alley on a gloomy day. When he discovers that these individuals are about to loot a jewellery store, he acts quickly to stop them. Bei encounters Liu, a private investigator, soon after, who convinces Bei that he is the long-lost son of a wealthy Korean businessman. Bei is soon on his way to Korea and possibly exotic Turkey to satisfy his ambitions of adventure and money.
FAQs
He didn't win an Oscar for any film per se. It was an honorary Oscar that was given to him for all his contribution to film in general.
Jackie chain has made at least 125 movies. Some as a lead actor and other as a supporting roles.
Not most films of Jackie chain are dubbed by him except the movie rumble in the Bronx. Which is dubbed by him in the English language.
Yes, Jackie chain is still making movies and his latest movie in 2022 will be Ride on (2022).
Jackie chain's first movie as a child artist was Big and little wong tin bar released in 1962. 
The movie Supercop released in 1992 made him famous. And this movie is jackie chain's one of the biggest hits.
Jackie Chan and Will Smith have never done a movie together as actors but they have worked together in some movieThe Karate Kid, Jackie Chan as an actor, and Will Smith as a producer.
The movie Karate kid released in 2010 had will smith son Jaden smith and Jackie chan.
According to data jackie chan had charged $15,000,000 for the movie Rush hour 3.
He's known for his stunt performances in Kingsman: The Secret Service, Jackie Chan's The Foreigner, and Hitman: Agent 47. He plays Kung Lao, the former Shaolin Monk whose wide-brimmed hat is so razor-sharp it can cut a man (or woman) in half. Kung Lao didn't appear in either of the original Mortal Kombat movies.
There are so many platforms available like youtube, TV, Prime Video, Vudu Movie & TV Store, Redbox., VUDU or Apple TV on your Roku device, NetFlix, etc.
The movies Wheels on meals, police story, police story 4, police story 2, rush hour 3, Armour of God, Armour of God 2. Police story 3, The accidental spy, The foreigner, etc. are available on Netflix.