What is Picuki – Instagram Photo Editor and Viewer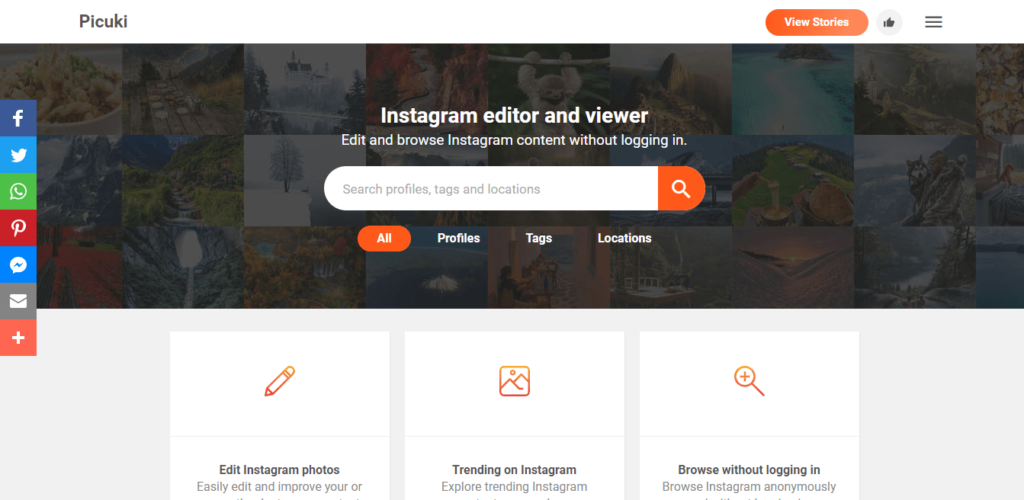 n this blog, we are going to talk about Picuki Instagram photos and viewers. You'll find the answer to how to use Picuki? Features of it and step-by-step guide.
But before we deep dive into the main topic let's see why there is so much hype about this type of tool that helps users to view Instagram profiles and stories anonymously and photo editing.
Today, Instagram is one of the famous social media platforms with a monthly active user count of 1 billion.
Surprised??
But that's true. People are really obsessed with its features and it is mostly famous amongst teenagers and adults aged 15 to 28.
Moreover, if we look at the statistics then Instagram has the highest number of monthly active users from India which is 180 million followed by the USA(170 million), Brazil(110 million), Indonesia (93 million), and so on.
At launching Instagram was just a photo-sharing application but later on features like a story, IGTV, and reels attracted millions of new users to this platform.
As a result, tools like photo editing, and Instagram profile viewers emerged in the market and become popular.
What is Picuki
Picuki is a tool that provides users to view the Instagram profiles of anyone anonymously and on top of that users can edit pictures, view stories, and download them.
Picuki is popular in countries like USA, Uk, India, and Australia where Instagram is highly popular.
However, there are many tools available like smihub, Storiesdown, and Storiessig, which are competing in the same niche but how Picuki is different from all of them?
Let's find out about its features and add-on services.
Features
Edit Instagram Photos – Edit Instagram photos with picuki that provide some extra benefits than using other platforms. Every social media platform has different dimensions to post photos and stories and with picuki you can edit photos of the exact size that fits in your feed and story.
Trending On Instagram – there are millions of hashtags that people use every day and some photos or videos become popular overnight on insta. This feature provides insights into what is trending on Instagram like any hashtag, photo, video, etc.
Browse anonymously – by using this tool users can view as many public profiles, and see likes and comments on them without even logging in to their personal account.
The best part is account owners would never know who visited their profile and how many times it was visited.
Classified searches – users can search according to their needs if the user wants information about a hashtag or profile or location then there are 3 options available beneath the search bar. Users can choose whatever option is suitable.
View and download stories – This feature makes picuki stand out from its competitors. Now it is possible to download the stories posted by users and even view them unlimited times anonymously.
How to use picuki
There are main 2 features one is browsing profiles anonymously and the second is viewing stories and downloading them.
Let's see both processes step by step.
View Instagram Profile
Step 1: Tap on this link https://www.picuki.com/ and the official will be opened.
Step 2: Go to Instagram and search for a profile you want to view. Copy the username and paste it into the search bar as shown in the picture below.
There you can choose other options like views hashtags, profiles, and locations.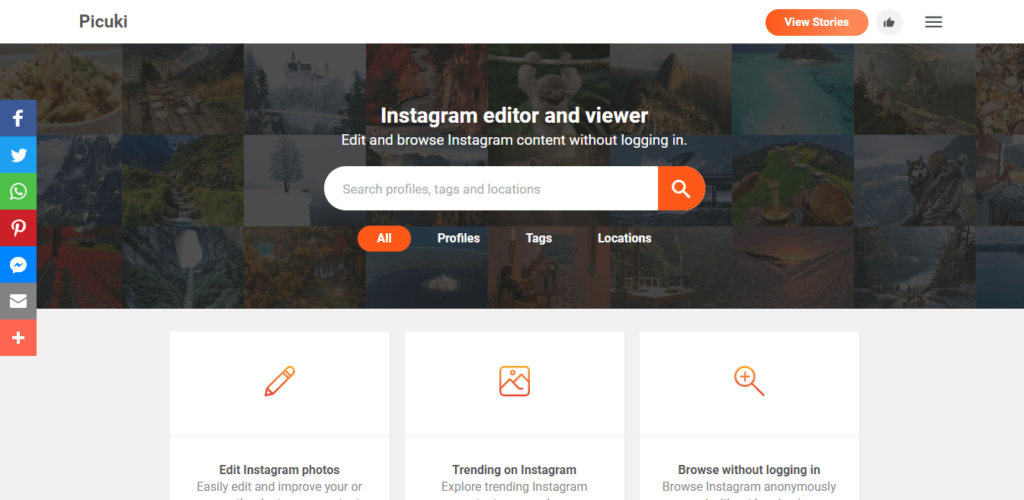 Step 3: Next, you'll see a number of options with similar usernames and profiles. You have to choose the profile you want to view and there you go.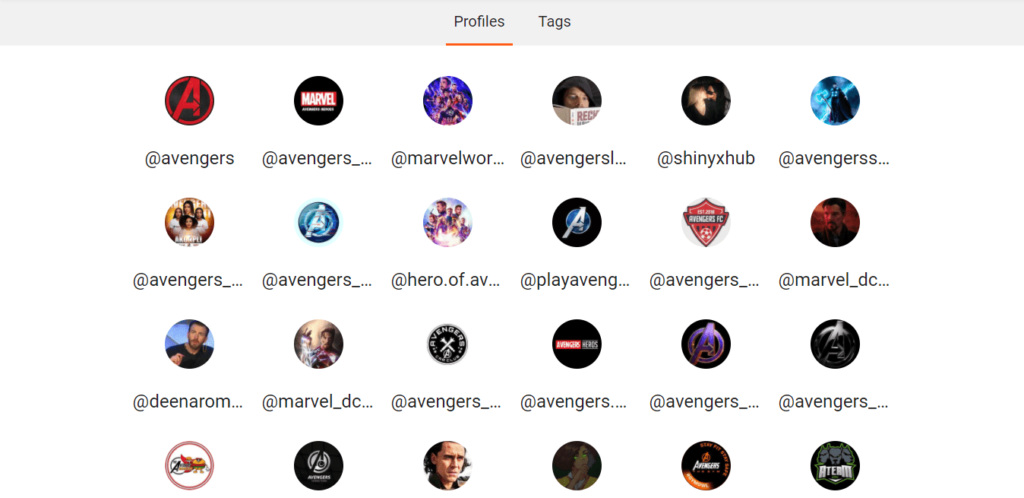 Step 4. By clicking on the profile user will be redirected to a new page where the whole profile will be opened. There they can see likes, comments, followers, and following of the profile.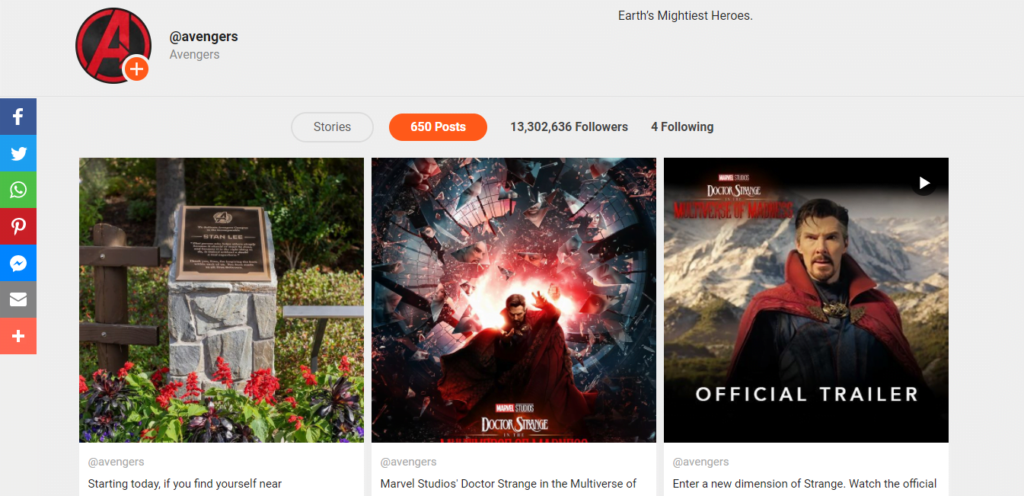 Step 5: Finally, from here if the user wants to download a particular post or video then just click on it. And there will be two options to edit or download.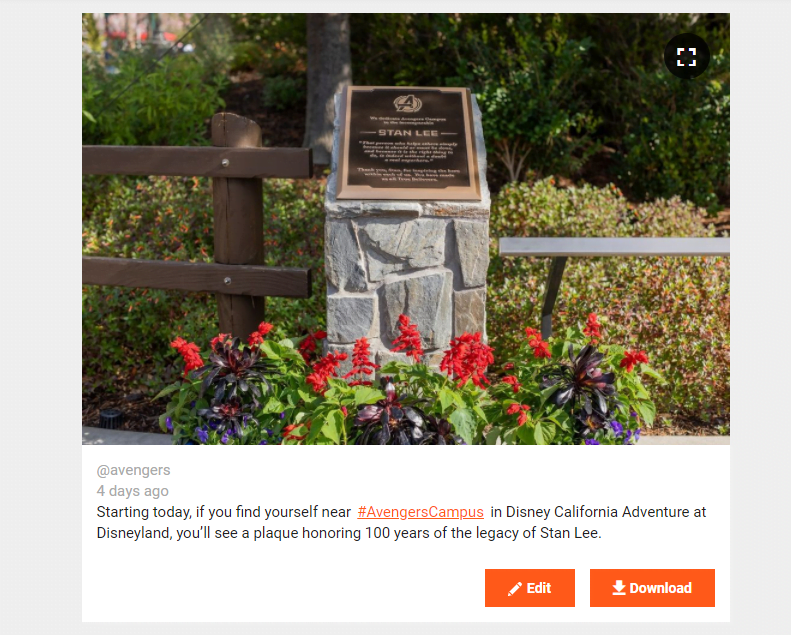 Download Instagram story
Step 1: go to the home page and click on View stories in the top right corner.
Step 2: Again there will be a search bar where users need to add Instagram user names.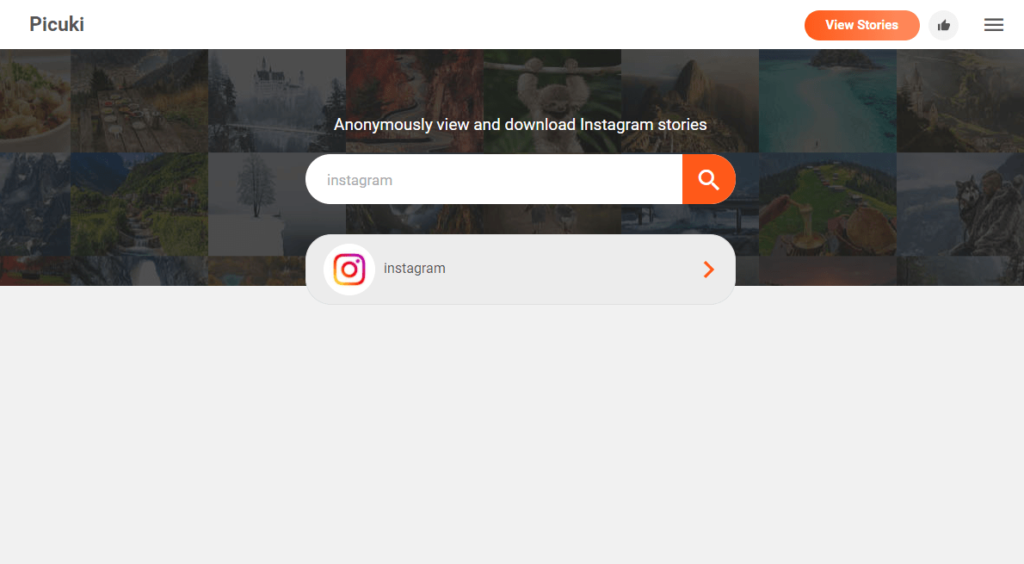 Step 3: Next, there will be stories available to see uploaded by users in the last 24 hours. Click on the download button at the bottom right corner and save it.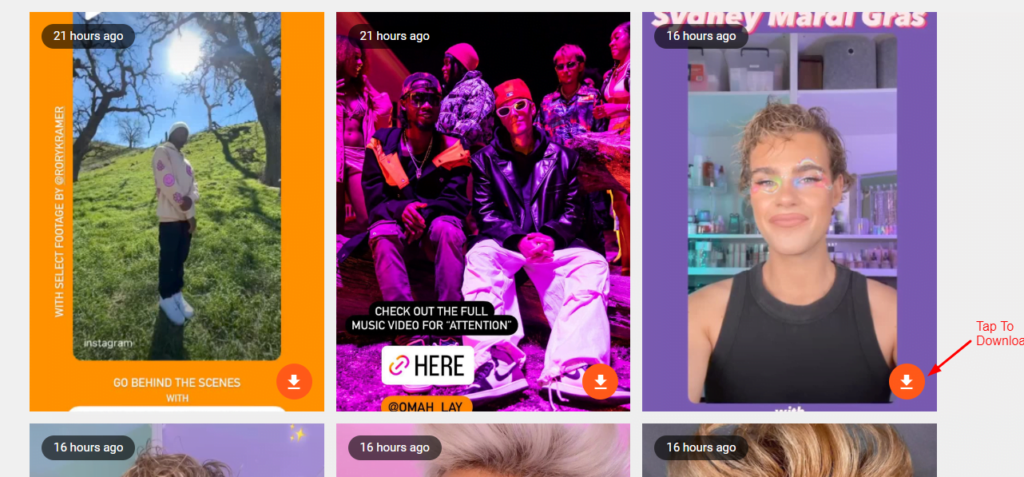 Picuki API
Picuki is developed with the use of top-notch technology and basically, it gets data from Instagram and puts it in front of its users.
The concept is simple yet useful which is why Picuki provides access to its Application programming interface(API) if anyone is willing to add in their tech layer.
How to use Picuki API
On the home page in the footer area, there is an option given by them called Request API.
If anyone is willing to add picuki API for any purpose like for research, or personal use they can request it here.
If you click on the button there will be a contact form that asks for basic details like Email, website URL, and project description.
Next, the team will get in touch with you.
Remove Content from picuki
Instagram is an open platform where anyone can create a profile and upload pictures and reels. But for user privacy concerns it gives two options to users public accounts and private accounts.
Yes, while creating an Instagram profile gives two options
Public account – anyone can see user activity like posts, stories, and reels.
Private account – only followers accepted by the account owner can see activities.
If an Instagram user wants picuki to not show their account activity on this platform then they can request it and later no user will be able to see it.
Follow the steps given below to remove your content
Step 1. In the top right corner, there is the menu. Click on the third option Remove content.
Step 2. Fill in the form and additional information like Email, URL, and message.
The team will contact you or restrict your information to be seen by others.
If the user does not want anyone to see their profile without permission then it is advisable to change the account type to private.
By doing this account owner can limit the number of people who can follow and see the profile.
Does picuki show stories
Yes, users can see stories of accounts they have searched for. The steps of seeing the story are as follows.
Search the username in picuki
There will be four options mentioned in the row Stories, Number of posts, followers, and following.
Tap on the stories you will be able to see stories uploaded from the last 24 hours.
Users can download stories on their local devices too.
FAQ
Is picuki anonymous?
Yes, with the use of picuki, viewers can see any Instagram profile, hashtag, location, and stories without disclosing their real identity.
What is the difference between Instagram and picuki?
Instagram is a social media platform and picuki is a tool through which users can view someone's profile and edit photos.
Can you block someone on picuki?
No, there is no option to block someone on picuki instead you can ask them to remove your content from their website.
Does picuki notify you of the screenshot?
No, it does not notify anything.
How to restrict picuki to show your Instagram profile?
You can send a request to the team via the remove my content function or just simply make your account private.
Can I know if someone has viewed my story by using pickuki?
No, it is not possible because every user activity on picuki is anonymous.
Is picuki safe?
Yes, it does not ask for any user credentials of a user to log in so you can say it is safe to use picuki.
8. Is picuki owned by Instagram?
No, the picuki platform is developed by a private entity and it is available on the web free of cost.