Tips to Reduce Downtime While Moving House in Dubai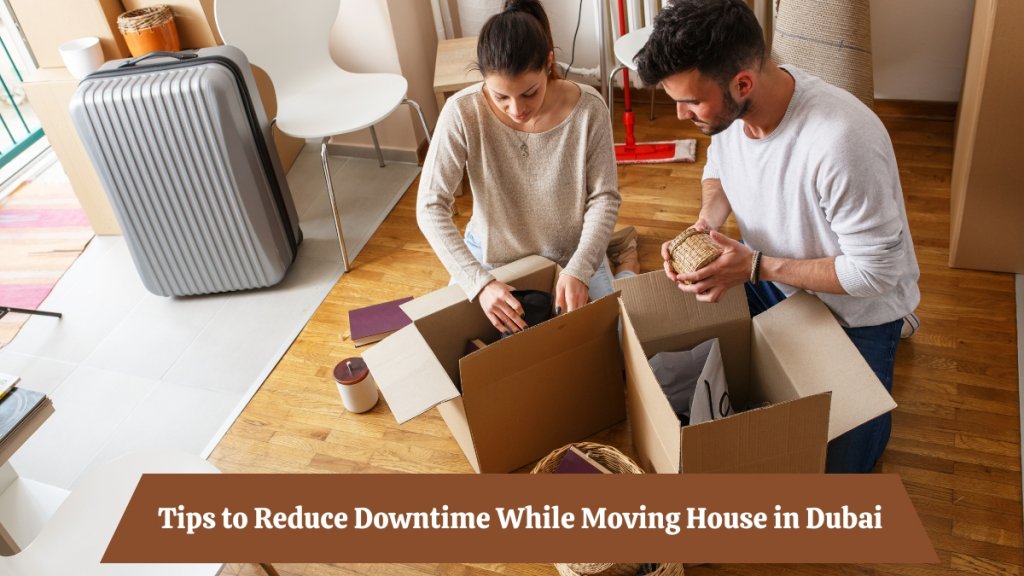 The last thing that you want to deal with when you are in the process of moving house is to sit
idle in your new home and wait for your cargo to arrive. A similar situation could be that you
have already shipped your cargo to your new house but you are getting stalled because your car
won't start.
1. Sounds Familiar, Doesn't It?
It could be absolutely anything that may result in downtime or idle time when
relocating from your old house to your new property. What do you do to prevent that from
happening? How can you ensure that everything is always in motion and that nothing comes
to an abrupt halt when relocating to your
new house
? Let's give you a few useful tips:
2. Always Remember to Prep Ahead
Give yourself at least 3 months in advance to prepare for this move. This is the only way to stay
ahead of the timeline that you have given yourself. It will also help you avoid any situations
that might arise out of uncertainties, extreme weather conditions, traffic jams, sickness,
accidents, unavailability of the right packing materials, and much more unavoidable and
unpleasant incidents.
3. Create A Moving Folder on Your Laptop
You will benefit a lot from creating a moving folder on your laptop. This folder is going to
contain several important notes, all your receipts, bills, payments, agreements, and paperwork
that you have to carry to your new house, including your lease documents, rental agreement,
insurance papers, banking-related documents, and a lot more. You can also start a digital journal
this folder will help you keep a record of all the cargo that you have packed and the
stuff that you want to discard before you move out of your old house.
4. Book The Packers and Movers in Advance
If you have decided to go with movers and packers in Dubai, make sure to get in touch with
them at least 2 months in advance. You should also ask them about their availability and
whether they will be able to change the time window at your convenience or not. Talk to them
about the various packages they offer and then invite them over for an initial assessment of the
property and the entire cargo.
5. Buy Packing Materials and Equipment 2 Months Earlier
This is a great investment. It is very practical to start looking for the right packing materials
early on. Also, the leading Dubai movers will suggest you rent a few pieces of equipment and
tools such as:
● Trolleys
● Planks
● Racks
● Boxes
● Moving straps
● Detachable handlebars
● Pliers
● Scissors
● Permanent markers
● Packing tape
● Wrapping paper
● Bubble wrap
● Garbage bags
● Styrofoam balls
● Cotton padding
6. Always Make an Essentials Bag
Creating an essentials bag is also very important. Make sure that you do not leave this bit for
the last moment. If you have any pets or babies in the house, it is better to make at least two
essential bags and remember to carry them in your personal vehicle only. These bags should
contain the following items:
● A change of clothes for everyone including socks, fresh underwear, and a handkerchief
● Toothpaste
● Toothbrush
● Soap
● A small sachet of detergent
● Sanitizer
● Pajamas
● Small pillows
● An extra bedsheet
● Cleaning wipes
● Extra diapers for your little one
● Dog food
● Dog leash
● Your medication prescription
● Anti-allergen for your baby
● Your personal sanitary items
● A shaving kit
7. Get Your Vehicle and The Moving Van Inspected
This is one step that is going to ensure that there is absolutely no downtime or idle time during
the entire movi. Vehicle-related problems can arise at practically any moment. The only way to
prevent this from happening is to inspect both the vehicles in question 3 days before the move
and on the very day of the move too.
8. Remember To Start Utilities in Your New House
This is a very intelligent decision. Several movers and packers in Dubai are going to
recommend that you start your services and utilities in your new home before you have moved
into it. While you are rearranging your stuff inside your new house, it is vital that there is
something to keep you entertained and a little easy-going. This is going to take away all the
stress of settling in quickly and setting up your space. Also, if you can set up a Bluetooth
speaker inside your new space and play your favorite music, you will notice just how easy it
becomes to unpack and set up your new house without any trouble, all the while moving and
grooving to your favorite tunes.
Let's Sum It Up
So basically what you have to do is perform all those activities in advance that you suspect are
going to go awry if you delay or avoid them. These were a few instances of all those things that
could probably go wrong. Just make sure that you do not pack and move to your new house in
haste and everything will be just fine.