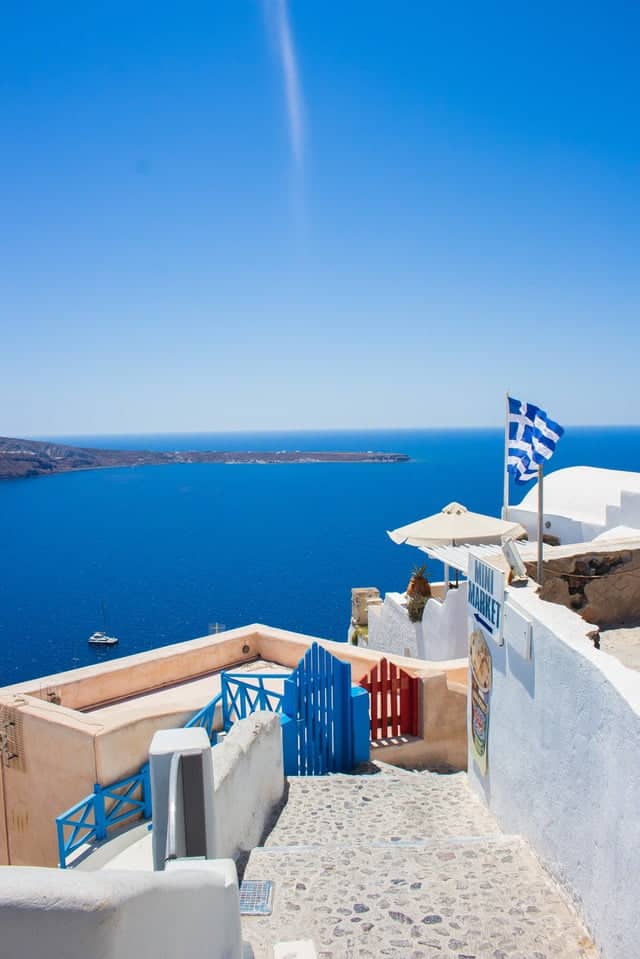 25th island of Greece, does this place really exists or just a viral meme on the internet? Let's dive deep into and find out.
What is the 25th island of Greece?
Nowadays, almost anything is becoming viral overnight if no matter it makes any sense or not.
So, This thing becomes a viral meme in no time when one asks on Twitter to search out what is the 25th island of Greece on google? And the funny thing is people really started searching for it and started laughing and sharing it more.
But why?
What is funny about this thing?
So if you google the name of the "25th island of Greece" you will get this.

The real name of 25th island of Greece is "Amorgos" But if you pronounce it it sounds like "among us" which is a popular game in the USA.
So, players of "among us" found it funny and started this trend to search on google and tweet on Twitter.
Here are some of the best viral tweets you laugh on.
"what's so funny about the 25th island of Greece" pic.twitter.com/0XXKAK2fYV

— a good guy 🇸🇰 (@AgoodguyA) March 9, 2021
That feeling when you have to look up what the 25th island of Greece is… pic.twitter.com/RBTw0y06eI

— Fone (@CacaPoopooPoopy) March 6, 2021
How did this 25th island of Greece meme become so popular?
This meme become popular among the community of people who were playing this game "AMONG Us" they pronounced the name of the 25th island of Greece "Amorgos" as "Among us".
Now, why so much buzz about this game? Let's find out more.
The game was introduced in 2018, but it caught the internet by storm this spring when individuals under quarantine and lockdown were seeking new games and activities to keep them entertained, and it remains popular today.
Spacemen in the game move about a rocket ship performing monotonous duties. However, there is an impostor within the crew who intends to damage the ship's safety and murder the crew members.
When a player dies, the entire group, which might include strangers from all over the world, meets to debate who the impostor is and ultimately votes them out.
The impostor must fool the rest of the gang by flying under the radar or accusing another member.
Does 25th island of Greece exist in reality?
Greece has an estimated 6000 islands vary in size and out of it inhabited are 166 to 227.
However, there are 30 islands which are most popular for tourism and people love spending time there.
In reality name of the 25th island of Greece is "Amorgos" and is popular for its exquisite beauty. Moreover, Greece is one of the famous destinations for tourists because of its location and architecture.
If we look at the world bank data almost 34 million people arrived in Greece in 2019 and it is estimated that this number will rise to 40+ million in 2024.
What is so fascinating about 25th greek island?
There are numerous things about "Amorgos" that will make you fall in love with this place. But here we have tried to mention some of the popular places that every tourist should visit in Amorgos.
By this, you can also make an itinerary to visit attractive places here.
1. Katapola
Katapola, the island's principal harbour, is undoubtedly the first settlement you will come across on your route to Amorgos.
If you take a boat from Athens or another Greek island, you'll most likely arrive in Katapola!
Katapola is a charming Cycladic fishing hamlet with a plethora of restaurants and stores on the seafront. You'll also find all of the vehicle and buggy rental firms here (for additional information, see the "Renting a Car in Amorgos" section at the bottom of this article).
The town is most crowded when the boats arrive or depart from the harbour.
2. Aegiali
Aegiali is another settlement on Amorgos that you should visit. It's around 20 kilometers north of Katapola in a gorgeous bay.
It is the island's second port. There are a few Greek restaurants and taverns as well as a tiny market there. You will undoubtedly like its original and family atmosphere: it is very different from the most touristy islands, Santorini and Mykonos!
3. Chora
Amorgos' capital, Chora, is well worth a visit (also called Hora).
Even though Chora is Amorgos' capital, it has little to do with Athens or Rome. Chora is a traditional Cycladic town, with white-washed buildings adorned with bougainvillaea and a maze of small streets!
You will undoubtedly fall in love with its authentic and scenic ambiance, which is both tranquil and soothing. You may also have wonderful traditional Greek meals at a reasonable price in one of the town's numerous local bars (no tourist traps!).
4. The Monastery of Panagia Hozoviotissa
Without a doubt, the Monastery of Panagia Hozoviotissa is Amorgos' must-see destination. It's also the most recognizable landmark on the island!
It is about 5 minutes away from Hora. If you're driving, park below the monastery or beside the road because there aren't many parking places.
5. Hiking in 25th Island of Greece
Hiking is without a doubt one of the nicest things to do in Amorgos. It's a fantastic chance to see every part of the island and take in the breathtaking scenery.
There are several defined routes that link all of the communities on the island. These old pathways are well-kept, and Amorgos is a hiker's paradise. During your hikes, you will come across several stunning vistas of the Aegean Sea!
6. The Big Blue
You may also engage in "Film Tourism" on Amorgos!
If you're a Luc Besson fan, you're probably aware that the majority of "The Big Blue" film, starring Jean Reno and Rosanna Arquette, was shot in Amorgos. It's now time to track down the filming sites for this 1988 cult classic.
In the village of Hora, for example, children are growing up.
Popular islands of Greece.
25th Island of Greece – Amargos
How to reach 25th island of greece – Amorgos
There are enormous ways to reach 25th island of Greece AKA Amorgos, Amorgos does not have an airport. You must first travel to Athens before boarding a ferry to Amorgos. Alternatively, fly to the closest international airport (Santorini or Mykonos) and then take the ferry to Amorgos. Another option is to fly to Athens, then fly to Naxos on a local aircraft, and then take a ferry to Amorgos.
Similar memes like 25th island of greece
There are many similar memes gone viral like 25th island of Greece and created lot of buzz about it on twitter. Check out some of the best viral memes here and enjoy.
1. Yassification (December)
It isn't referred to as a "glow up." It's more than that. Yassification is the unavoidable effect of overusing social media filters to make yourself appear inhuman. Or, in the case of this meme, it's a complete transformation. Check out Aunt May. This may be explained by the concept of the universe and the fact that none of these Aunt Mays are identical, but also, Marissa Tomei.
the yassification of aunt may pic.twitter.com/R55WDGwmEV

— urban meyer's pr team (@snidelaughter) December 18, 2021
2. The Omarion Variant
To paraphrase a joke from the past, some of you clearly did not learn Greek, and it shows. People quickly identified the foreign O-word with Omarion, an under-appreciated recording artist, when the Omicron variation was launched. Is he having a branding nightmare? Probably. Isn't this great material for memes? Yes, of course. Because you have to make jokes to prevent from sobbing after nearly two years of this nonsense.
They say in order to keep the Omarion Variant away, you have to do this routine 3 times in the mirror pic.twitter.com/DWvJAdW4GU

— 🐝 (@aura_of_gold) November 30, 2021
Happy Side/Sad Side Bus
Sometimes a meme isn't even related to current events. It just so happened that someone thought of a way to make it relevant out of thin air. The "happy side/sad side bus" meme was born from this. It first debuted in mid-November and is still going strong.
November 18, 2021
Vin Diesel and Family
With the release of F9, we were reminded that tough man Vin Diesel and his action-movie-turned-superhero-franchise aren't just about explosions. Defeating the evil people, for example. It's all about the automobiles and the family. That is not to be confused with family vehicles.
Vampires ain't got shit on Vin Diesel pic.twitter.com/FQ62jf8KwZ

— ⚡⚡ (@King2Wesley) July 5, 2021
To Summerize
Hope you enjoyed reading this blog about the viral meme of the year 25th island of greece. we have covered all the aspects like its origin, how it went viral, and its connection with the popular game "Among us". As a bonus we have added some of the other memes so enjoy continuing to laugh.
FAQ
Yes, 25th island of Greece exists in reality and the name of the island is Amorgos.
It started from twitter, where one random user asked to search on google what is the 25th island of Greece.
Amargos, the name of the 25th island of Greece is similar to name of the game "Among Us".
Yes, you can easily go there and visit mesmerizing locations.
No Amargos does not have any airport you can only reach there by ferry which you can take from any neared island.