Online Practice Test for Google Placement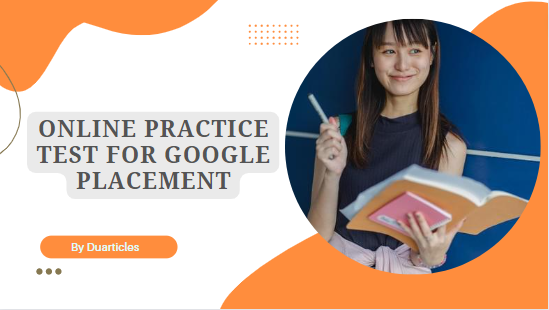 Google is undoubtedly ruling the tech market today. It is the new name of advanced technology
and innovation. The company is providing highly advanced technologies with the help of
thousands of experts working in several domains,

You need much more than certifications to be a part of the Google teams. The experts at
Google constantly look for professionals who share their vision and enthusiasm for innovation. If
you are driven toward advanced technologies and innovation in the tech world, Google is the
right place for you.

However, joining Google is not at all an easy riddle to solve for fresher candidates. To help you
get closer to your goal, you can practice your skills through online tests.

The online practice tests for Google are the right way to evaluate if your preparations are on the
right path. If you wish to join Google too, this article is the right guide for you.

Ahead in this article, we will discuss what is the placement process at Google, how the online
practice tests can help you crack the Google interview easily, and finally where you can attend
these online tests.

So, without any further delays, let's move to the basics and understand how Google's placement
process is carried out.
Placement process at Google
Placement at Google is a highly detailed process. You will have to clear 4-5 rounds of interviews
followed by technical assessments to be a part of this tech giant. Following is the step-wise
procedure followed at Google for their placement process:
● Online assessment

This section will contain only 2 questions. Usually, these questions are based on technical
concepts like data structures, algorithms, and such. Although these questions belong to a pile of
hard questions, with the right practice you can easily resolve this segment. This section serves
as a filter for the recruits as the candidates who are not able to score up to the mark are
eliminated from the process.
● Phone screening

The next step is getting a call from a Google executive. This call will be turned into a call
interview based on which you will be analyzed. The screening call might last for about 45
minutes. You will be asked various technical and personal questions throughout this screening
test. After this stage, you can expect an acceptance mail from Google on your registered Email
ID as an invite for the third round
● Onsite Interview

This phase of the interview is conducted face-to-face by Google experts. You may have to
attend this interview at your nearest Google office or simply at their mentioned office. Either
way, this phase will be completed in a few rounds. Approx 4-5 coding interview sessions will be
held during this phase to analyze your skills, previous works, and others. Once you successfully
clear these rounds, you will be invited to the final round.
● Behavioral round

This segment is where your Googleyness will be checked. It means that the HR recruiters will
analyze how well your personality aligns with the vision and mission of Google.
Additionally, you will be given various real-time situations and questions for which you will have
to come up with a unique answer.

Online practice tests will help you in cracking the online assessment, phone call screening, and
technical interview rounds at Google efficiently.
There are different domains for which Google recruiters hold Online assessments. Depending
on your domain, the technical concepts discussed in the test. Find out different domains for
which Google recruits professionals in the next segment.
Domain-specific job profiles at Google
Google has more than 10 different teams working as a unit to provide excellent IT solutions to
global users. Following are the job profiles to which you can apply based on your education and
interest:

● Facilities
● Design
● Finance
● People
● Legal
● Business strategy
● Marketing and communication
● Engineering and technology
● People
● Sales
● Services and support

Once you select your respective domain, your questions in the technical interview round will be
framed accordingly.

Depending on your selected domain, your exam frame may vary. However, the exam pattern
will remain the same. If you are looking for the general exam pattern followed in different online
practice tests for Google, read the next segment to get a detailed discussion on it.
Google Online practice test pattern
The Google online test is designed similarly to the pattern of final Google exams. You will get
an idea of how the Google exams are formed based on these Practice tests.
You can also take up chapter-wise tests that will help you brush up on all your specific subjects
and concepts in detail.

Following are the sections that you will usually find in your Google online tests irrespective of
your domain:
● Quantitative questions:
These questions cover various problems such as direction-
based, numerical ability, fundamentals of math, and many more. The questions asked in
this round range from easy to medium.

● Reasoning and logic-based questions:
From blood relations to coding/decoding, you will
find all the logical and reasoning-based questions in this section. Make sure you practice
well for such questions to clear your Google interview test easily.

● Verbal ability questions:
the English language is the main focus of this section. You will
have to attempt various objective questions that will evaluate your grasp of the English
Language and its concepts.

● Problem statements and practice questions:
Practicing several problem statements and
practice questions will help you gain insights into concepts in a furthermore accurate
manner. in real-time problem statements.

● Technical questions:
You will learn various applications of concepts you learned
throughout your practical experience and through tests. You will be asked about different
technical concepts during this segment

● Chapter-wise practice sheets:

You can also choose the full course tests to analyze your performance and get a brief idea of
how well you can perform on the Google placement test.
Winding up
While preparing for Google online test, you can seek help from mock tests of other companies
as well. Amazon assessment test will help you understand the pattern of the exam with a clear
vision. The test pattern of online tests will help pace up your preparations.