4 Easy Ways to Set Up a Farmhouse-Themed Garden and Outdoor Space
According to a survey, 90% of Americans consider their outdoor space "more valuable than before." A well-kempt and lush lawn or garden area are great for barbecue nights, al fresco dinner parties, and recreational space for kids. However, there's a more creative and functional way to make these outdoor spaces productive and functional for your household—upgrade it into a farm.
One doesn't need an acre to start a farm. Even with a patch of land in the suburbs or the city, you can have an awesome small-scale farmstead. Think about the sustainable value of farm-to-table food at home and how much money you'll save. This can also turn into a profitable business opportunity.
A farmhouse garden is a gorgeous addition to your home. Instead of the usual garden setup, you'll have a standout, cozy, inviting extension at home. And it's something you can set up easily! Here are easy ways to start your farmhouse garden or outdoor project.
Start a produce garden
The whole concept of having a farm lies in developing food production sources of plants, animals, and others. If you're starting one, you need to consider what crops you can and want to grow. Besides helping you become self-sufficient, vegetable crops are also practical alternatives to floras and give your garden that rich green glow.
Here are some tips to help you sketch a farming plan:
Assess your local climate. Before sourcing seedlings and getting the necessary farming supplies, consider what crops are favorable to your local climate. Are you living in a mostly sunny, dry state? Does it rain often? Is it freezing most times of the year? These are natural factors that will affect your gardening all year round. If you live in the United States, the USDA Plant Hardiness Zone can help you determine what flowers, vegetables, and fruits will grow best in your area.
Grow what you eat. Look at your monthly grocery list and decide what veggies you can grow. Some of the most common and easiest to nurture yields are cabbages, green beans, leafy greens, carrots, cucumbers, kale, and radishes. Strawberries, raspberries, cherries, apples, and pears are also popular fruit products for a home garden.
See how you can maximize your space. Limited outdoor space is no excuse to stop you from having an abundant harvest. There are many ways to make the best use of your available area for gardening. This includes techniques like raised beds, container gardening (great for indoors, too), and vertical gardening.
Raise backyard chickens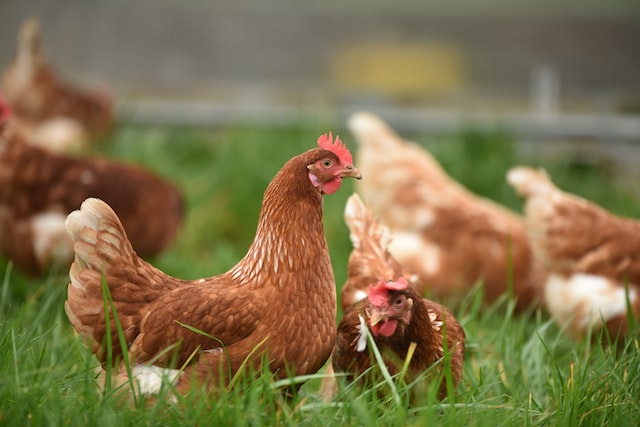 If you want to add life to your backyard farm, nothing is more endearing than chickens. They are hardy creatures that keep on giving.
First, they can regularly give you the best-tasting fresh eggs and meat for household consumption and selling. Their manure can be a great fertilizer to enrich your garden soil. They can also feed on some of your poor or overripe harvests, which reduces food waste. 
Contrary to common expectations, chickens are fairly low maintenance and won't usually warrant a noise complaint. Just be sure to enclose them in sturdy poultry netting or fencing, as they (and their smelly poop) can cause havoc on your lawn. You should also check with your homeowner's association if raising poultry is allowed in your neighborhood.
Be a beekeeper
Did you know that bees help grow about one-third of America's food? They pollinate apples, cranberries, melons, squash, and other popular food options. Bees take on the essential work of helping plants produce healthy fruits.
So if you don't mind a little sting, another great thing you can do with your farm is to raise honeybees. They pollinate your edible and flower plants so that you can expect a good harvest and beautiful blooms in spring. And as long as you take care of the hive well, expect an endless supply of honey.
Dedicate a space for gatherings and relaxation
If you have enough room, a gathering area for family and guests is a must-have addition. A farmhouse-themed backyard is a great venue for special family toasts, pictorials, dinner parties, and relaxing afternoons spent outdoors.
You can also get creative with a deck overlooking your farm and boost your living quality and your home's resale value. A kitchen-side terrace or outdoor dining is also great for convenient foraging. If you have little space to spare, a hammock or comfortable seats under a shade make up a relaxing area to destress and unwind during your downtime. To fully transform the place, you can install lantern lightings, winding pathways for lazy garden strolls, a fire pit, and rough wood or distressed iron furnishings to present a homely rustic vibe.
Ready for a Garden Spruce Up?
Your outdoor space has limitless potential besides a neat or wide garden space. It can be filled with things that'll bring the most value to you. This is the vision behind the popular Food, Not Lawns movement in 1999—to give families access to healthy organic foods. An impressive lawn may yield high curbside appeal but none of the nourishing and money-saving benefits of a produce farm.