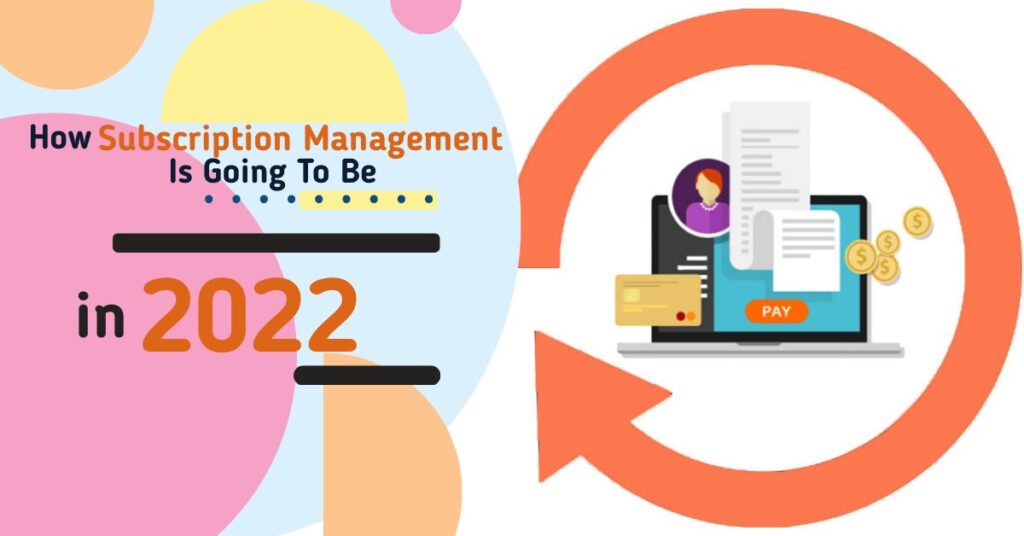 In 2021 subscription industry has seemed 6 times higher revenue in the past 5 years. But, it isn't going to be the same for Subscription Management in 2022. Here is why!
About Subscription Management
When the global pandemic begin thing was uncertain and it was predicted to affect the global economy in the worst ways that have never been seen before. However, the subscription business model has provided a ray of hope to many. And many Subscription Management solution providers entered the market to offer a one-stop solution with Subscription software, as a result, the subscription economy has seen a sudden boom because it eases access to amenities and products for the subscriber, while for subscription providers it eases the process of delivery which physically seemed impossible in lock-down. And, the subscription category 'well-being and health,' mental or physical has been more popular among subscribers than ever, to give you an example, digital news & entertainment subscriptions gain 300% revenue turnover, and Netflix is one of the many to generate $6.1 billion in 2021. The cherry on top, the affordability of subscriptions has increased the number of subscriptions people have too, according to a study in America, 69% of people are subscribed to more than three subscriptions, and among them, 27% are planning to increase it further. 
Furthermore, the increasing trend in subscription purchases, new competitors entering the market, and competitive pricing has raised new challenges for businesses at the regional and global level alike.
To give you an overview of how the subscription industry is going to be in 2022, we have provided a detailed overview of the past two years. In the light of this analysis, we have identified the concerns that the subscription industry will be facing and how the Subscription software or Billing software can serve them.
Also Read - Local Sales Network: What it is and How to build it
How Recurring Payment Solution Evolve From 2020 To 2021
In 2020, many businesses turn to subscription business models to seek revenue stability. And, many subscriptions that entered the market as an experiment received tremendous praise that they are not established brands, e.g. Birch Box, Bark Box, etc. At the same time, it increases new entries in the market and simultaneously saturated it. This raised concerns for businesses to provide competitive prices while reducing the cost of subscriptions. Another challenge faced by the subscription industry was to overcome subscription fatigue and to build long-term relations with subscribers.
All of the challenges that we have mentioned above were doubled by the end of 2021 and new concerns entered into the market ranging from reducing the cost of acquisition & churn. Another challenge was to boost the loyalty of subscribers. This was made possible with 'curation' and by swiping the box with credit or much more. Moreover, in 2021, subscription providers were also facing the rising concern of monotony and since the pandemic connected world, the need for global expansion and payment collection in native currency toppled all challenges raised in 2020.
How Subscription Management Challenges & Opportunities Seem In 2022 For Subscription Industry
Next year subscription challenges are predicted to be somewhat different from what we have mentioned above, in many ways. One of the challenges that global expansion is posing is how to mitigate the interest rate for the subscriber to make subscriptions affordable and build a tax stack that is customized to match the needs of every region ranging from currency to policies and returns. Another challenge posed by the technical innovation and adaptation is providing a secure payment gateway that offers payment security. At the same time, the need to tackle fraud needs to be addressed urgently on the part of the subscription provider. Since every transaction is being done online, it put pressure on the subscription business to verify the subscriber information and payment. The solution to this is integrating third-party applications. Lastly, a keeping system update is another challenge that every subscription provider has to address ASAP.
Conlusion
In the global lock-down when people can not go out and shop the subscription business has provided solutions for any problem at subscriptionflwo.com. Now you can get every razor on a weekly or monthly subscription. Moreover, for entertainment, there are multiple avenues and cheap alternatives that people can go to. But when it comes to subscription business the trends are not that simple, you have to take into account the progress of past years, current economic condition, availability of resources, and most importantly the quality of subscription service before one can set new goals and resolutions, or making big decisions. And, the concerns that are predicted to arise in 2022 are associated with technical aspects e.g. payment collection, tax, and personalization, while the quality aspect deals with the subscription box's or services innovation to keep subscriber hooked.