Weekly work plan that actually works in 2022 | 6 step solution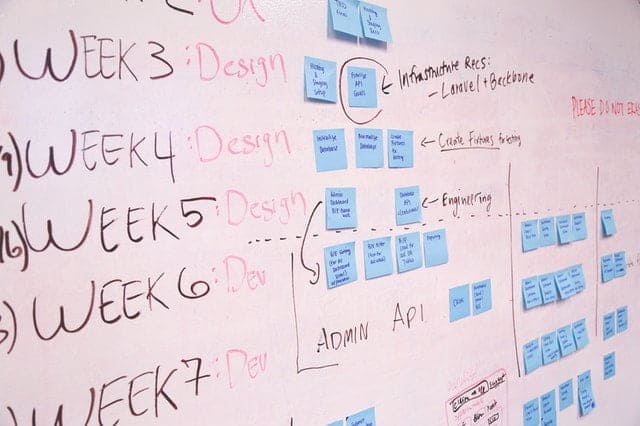 Weekly work plan is easy to make schedule that can keep your weekly work activity in track and help you achieve your small goals.
It's Monday again, don't know what to do and where to start work for this week. Neither have planned anything nor made any weekly work plan. This week is surely gonna be as messy as last week.
Do you feel exactly the same every Monday? So, here I have a solution for you.
Planning your weekly activity in advance can reduce your majority of work stress and you can be more productive at a work. But how? How can your weekly objectives can be achieved and how to schedule your work in such a way that you do not miss out on anything.
Ok ok keep reading this article and you will know how to make a weekly schedule in just 6 simple steps.
What is Weekly work plan?
Weekly work plan is the task of planning your week's activity and goals in advance which can be followed.
People tend to organize their work according to when they wish to finish it. But because of a lack of focus, priority, and commitment, they miss out on something and the task remains unfinished.
It's good for you to schedule your work prior so that work-life can be balanced and no unnecessary stress dominates your mental peace.
Keep reading to unveil make your achievable work schedule.
How to make your weekly work plan
Creating your weekly timeline is quite easy rather than following it strictly. Anyone can make a plan by pointing out work hours and objectives to follow but it is harder to stick follow it throughout the week.
From now, before making your schedule keep these 6 points in your mind I have listed them below.
Set your work priority
Sometimes we become enthusiastic out of frustration of not making desired planned work and due to this we create a big timetable to follow for the next weeks or months.
Here, most people make mistakes. Try to prioritize your work suppose, next week on Tuesday you have a meeting with a prestigious prospect and on Monday you have planned a dinner outing so what would do in this situation?
Here decide what is more important like having dinner outside on Monday evening or to prepare for the next day you are having a meeting? The choice is all yours.
What you can do is note down all the work planned for the next week and besides each work write priority number from 1 to 5.
1 – high priority
5 – least priority
So this is how you can prioritize your work accordingly. 
TakeAways
List your work according to least and most important
Give them a number from 1 to 5. 1 is a high priority and 5 is the lowest.
Write down everything on the workbook or chart and schedule your weekly task.
If work priority conflicts then decide what is less forfeiture.
Review your weekly goals
Deciding on your weekly goals is the second most important thing to prepare your schedule. But how would you decide goals?
Simple, imagine what next week is gonna be if you are working professional and you want to attend as much as meeting possible then your should be meeting people.
If you want to educate yourself and work on self-development then your goal should be on getting as much as knowledge possible so keep extra time for your study.
Similarly, if you are a business person and want to give some time to your family and attend function then spare some extra time for leisure activity.
What you can do is write down your objective for next week and note down work accordingly.
Takeaways
Decide your week's main objective
Write down all the work accordingly
Assign extra time to the activities that match your weekly goal.
Choose a one focused day
Making all your working days hectic does not sound good right? Absolutely not.
Rather than making your all working days tightly scheduled decide a one day between the week or the start of the week where your energy levels are high and you have enough motivation.
If there is similar work repeating in the week or you need to travel somewhere or attend some function or webinar something then keep a one day where you hustle more.
This will help you to rest other days in between because you have done the majority of the time and energy-consuming work.
What you can do is as you have made a priority list then keep 2-3 high priority work at one day and for others keep its mix of it. This is how you'll be able to manage work easily.
Takeaways
Choose a day from the start of the week or mid-one.
Gather 2-3 high-priority work.
Try to Finish those tasks on the same day.
Keep some empty slots
It's not necessary that if you have created well planned weekly schedule then everything will go on the right track you still can have some emergency work or work dependency that might be left not be done.
So, what in that situation? Better you keep some slots empty that mean there are some patches in a day where you have not planned anything.
This is how if something you have missed on the previous day or any emergency work has arrived then you can easily finish it in empty slots.
Takeaways
Keep some empty slots in between.
Finish emergency or pending work in this timestamp.
Do not make rigid schedule
I understand that you are highly motivated and waiting to finish this blog and create your own weekly plan. 
Hold on, do not hurry because in excitement you'll make an extremely tight or rigid schedule that might not be possible to follow because of lack of perseverance, and ultimately you'll lose all your motivation in the first week itself.
If you are a beginner then create a schedule that can be easily followed by you. Start with normal activity and objectives and once you start achieving it you'll feel a sense of achievement and then make rigid schedules.
Takeaways
Create a flexible plan at beginning.
Start following the flexible plan with devotion for some weeks.
Once it becomes a habit switch to more rigid plans.
Keep your energy level in mind
As we talked about earlier what kind of plan you should make if you are a beginner and what pattern you should follow.
However, your energy levels play a vital role also. If you have planned 2-3 outdoor activities together or some technical work that might exhaust your mind fully then it is better to start with the light work.
Keep a balance of work so you can keep your body energized all day long. As discussed earlier keep some empty slots where you can take a nap or have a cup of coffee.
Takeaways
Choose different types of tasks daily.
Keep a time for a nap or a break
Have good and healthy breakfast in the morning
Also Read - Where Can I find happiness – 5 Ways to be happy
How to make customized weekly work plan
I know that there are 100's of ready-made templates available to make your weekly plan but there are some common things for everyone that you do not want to waste your time behind it.
Here, you can create your customized weekly timestamp in excel or google sheet in just 10-20 min.
Step 1: write down your weekly pre-planned task in a notepad and beside it write the priority of the task.
Step 2: Decide how many days is gonna be your working days and according to it starts dividing work by each day.
Step 3: Do not forget to decide your week's objective and by following it choose your one focused day.
Step 4: At the end keep a window for rest and rejuvenate yourself in between tasks.
Benefits of weekly work schedule
Improve Work productivity: You can be productive at work by maintaining your work plan. It helps you to keep track of the next move you gonna make. 
Work-life balance: helps maintain your work-life balance because you can set your objective of the week and set the goals.
Remove work stress: A well-maintained schedule help to manage all the work according to priority wise. This is how you can live a balanced life and remove stress.
Templates for weekly work plan
You can create a plan with the use of an excel sheet or any notepad but if you don't like to follow the raw charts you can opt for an application and products which provide a readymade template.
This template makes it easy for users to schedule meetings, add reminders, etc. also this can be integrated with other platforms like google meet, zoom, slack, zapier, zira, and many more.
Here I have provided you with many options to download work plans from.
Try this out.
Excel Weekly Schedule Template, Sun-Sat with 30-minute Intervals
Bi-Weekly Work Schedule Template
Microsoft weekly work schedule
Weekly Schedule Templates (Excel, PDF, Word)
hope you have got the idea about it and how to prepare it.