what is Omegle | Everything you need to know about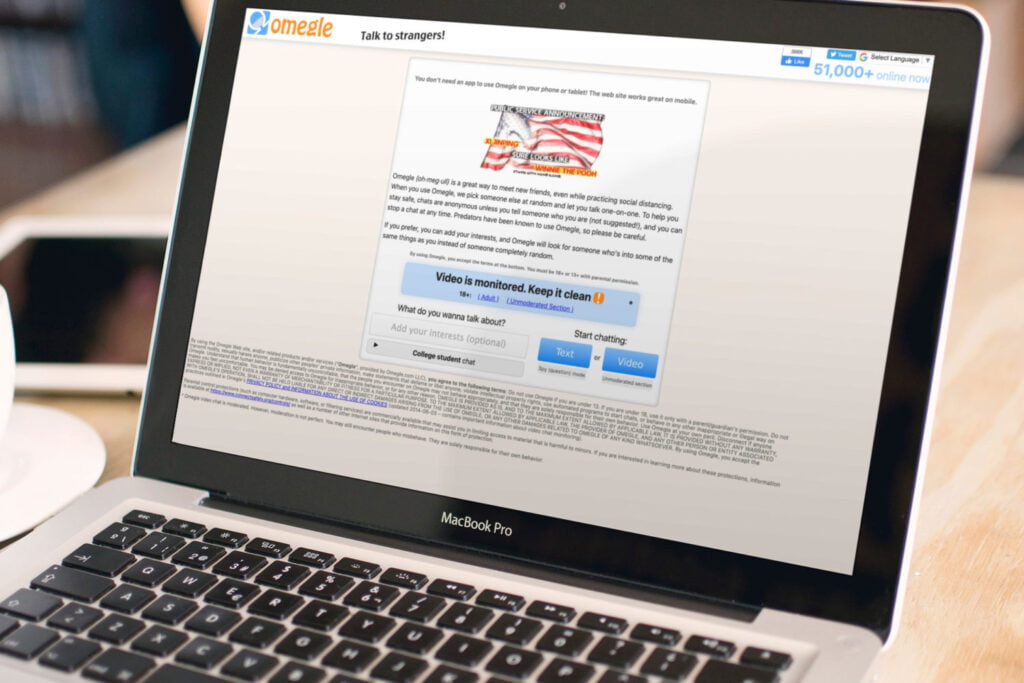 As a teenager or adult, you must have thought of making friends or talking to someone who listens to you without passing any judgments.
Sometimes we don't feel like telling secrets or chaos going on in daily life to share with people around us. Kind of hesitation is there and shyness could be a reason too.
But what if someone tells you to go on the internet open one website and boom you are now able to chat with random strangers around the world without revealing your identity or paying even one penny.
Not just making friends but as growing up people seek a partner to fulfill their basic need to have fun.
What if you can chat with someone from your university or school without asking for their personal details such as phone number or Instagram ID?
You just land on a website and type your school or college name that's it and all the people from the same premises using that platform are available to chat with you.
Isn't it interesting? Your privacy is maintained, no need to pay a single buck and No subscription is required.
Here in this article, we are going to explore one such platform named Omegle. Find out what is Omegle, how to use Omegle, and many more interesting things about it.
What is Omegle talk to the strangers
Omegle is a platform available on the internet to everyone free of cost where people can chat through video or text with random strangers without any privacy or data breach concerns.
Officially Omegle was launched on 25th March 2009 and it has been famous amongst teens and adults for more than one decade.
No doubt why this platform has gained so much popularity despite no major updates in features or design.
If we look at the statistics more than 95+ million organic traffic gets from different search engines. It means 23.5 million people use Omegle every week, 3.35 million every day, and 139,880 every hour. 

Quite interesting numbers right? With this much popularity, it is one of the top social media platforms with tiktok, Instagram, Facebook, and Snapchat.
One most imp thing as a user you need to consider is almost 29% of traffic comes from the USA alone followed by India with 9.93%, Italy with 5.9%, Mexico with 5.2%, the Philippines with 4.3%, and Uk with 4.29%.
Hence, we can assume that a stranger can be random with anyone from around the world and share different things about their local culture, place, and rituals.
Moreover, the average user per session is 5.8 minutes long and the majority of users come from mobile-only.
Nowadays, Omegle is not only a fun site but people make lots of money out of it. Youtubers are doing live by having fun on Omegle and others showcase their talent there and successfully redirect them to personal accounts on tiktok, Instagram, or youtube.
But one thing about Omegle that is raising concern amongst the parents is the overuse of this site by their kids.
Since this is freely available on the internet and does not require any age-related proof to get into this kids sometimes fall into a trap or start misusing it.
Although, the Omegle algorithm takes care of things regarding user privacy and bans a user if inappropriate things are happening. 
What is Omegle used for
Random video chat
Random texting
Find strangers with a common interest
College student chat
Talk about favorite topics with strangers
Showcase talent over video chat
Omegle is mostly used for having fun in free time by talking to strangers or doing video calls with them.
Some interesting feature like finding strangers with common interest allows user to type in keywords of their interest and people with the same exact interest will be shown on the other end.
This is how making friends or community becomes so handy. Another feature is called the unmoderated section where the user is required to be more than 18 years old to use.
Besides having fun, people have found ways to make money from it. Content creators, live streamers, and meme page admins use this platform to make funny videos by having conversations with people around the world to get millions of views on their content by posting it on other social media in the form of a short tiktok video, reels, and youtube shorts. 
What is the best time to go on Omegle?
Until this, you have gotten an idea about Omegle but how to use it and what is the best time to get someone to talk to is still a mystery.
According to data available most traffic Omegle gets is at night time and that is around 10:00 PM to 3:00 AM.
It is obvious that it is the time when people find free time for themselves and use Omegle as a source of entertainment.
Just follow this simple trick and you are all set to go.
Step 1. decide on people from which country you wanna talk to and currently where you are living.
Step 2. If you are living in Italy and want to talk to the people of the USA then simply type in the current time in the USA.
Step 3. See if there is a time between 10:00 PM to 3:00 Am? If yes then there is a high chance of getting strangers on chat from a particular country.
For boys out there who have already tried everything then try out some tips on how to find girls on omegle.
What is college student chat on Omegle
Student chat is one of the best features provided by Omegle for people who only want to connect with someone from their school or college.
This feature works very simply, every college and school gives a professional email id to their students, and that email id ends with the domain name of the college.
For example, the college name is saint Feb so the student email id would be jack@saintfeb.co.edu. And all students from the same college will have their unique email id.
Now if a person wants to connect with a random person from their college or school then student chat would be the ideal feature for them.
Let's see how it works step by step.
Step 1- Open the website omegle.com and in the bottom left corner you will see the option College student chat.
Step 2-  click on that button and there will be some instructions as well it will ask for your college email id.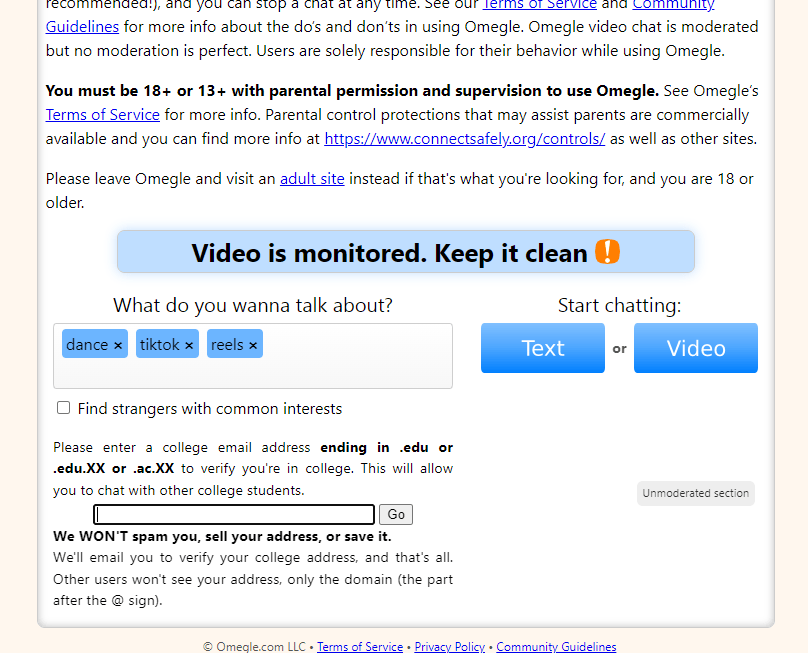 Step 3. Enter your official email id given by your school or university and for authentication one verification mail will be sent.
Step 4. Once you verify it you can meet people from your institute only.
The process is so easy and lets you interact with people around you. If you are new to university or an international student who wants to make new friends but feel shy then this is the best feature you can use.
If you are concerned about data privacy then Omegle assures you not to share your email with anyone or no emails from them.
Indeed very useful.
What is ASL in Omegle
ASL is an abbreviation of Age, Sex, and Language.
As a new user, you must be confused initially about what people are asking. No hi and hello just directly asking ASL.
So, there are some short forms famous on Omegle like ASL, M or F, etc. because in Omegle text person can not identify who is chatting with another side because no video chat is involved.
In this scenario how to identify whether a person is suitable for you or not. So, before going deep in conversation people ask at the beginning like ASL.
See here a perfect example of how to use ASL.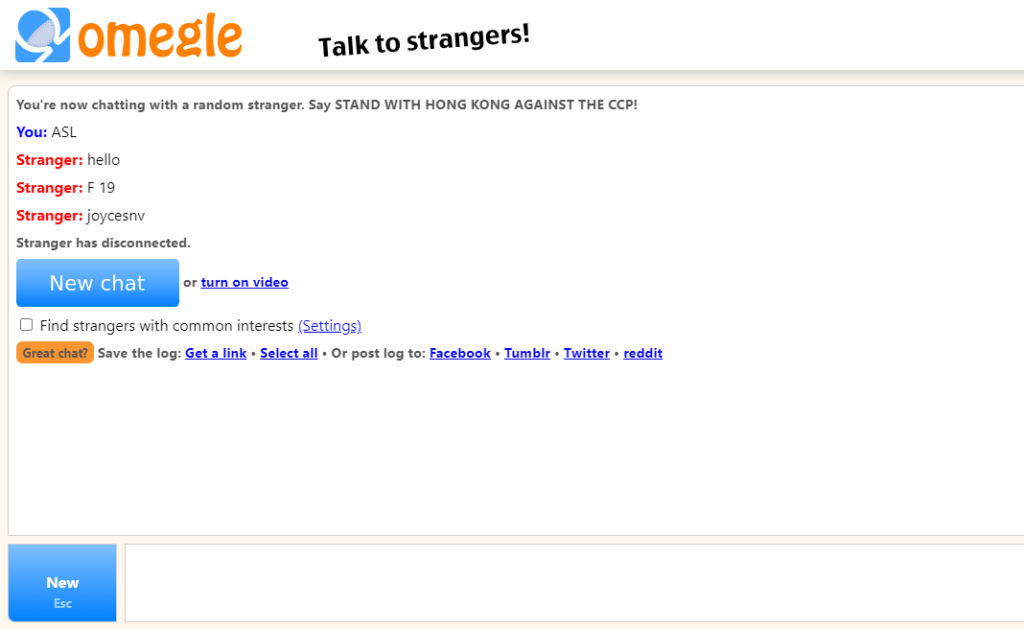 What is the meaning of Kik on Omegle?
If a person shares their Kik Id on Omegle then it simply means that person is asking you to come and join the platform Kik which is a social media application like Snapchat and talk with them.
You might have experienced the same as most people already have. You start a conversation like all formal chats are finished and suddenly person messages
My Kik id is – lan15602
And you are like what is this. So there are so many bots active on Omegle who starts a formal conversation with you like hi hello and then share Kik id.
But you must be careful while joining this type of community because you can become a victim of fraud or something.
So next time you see a message like this just ignore it and start chatting with someone else.
What is illgle on omegle
Omegle is an open platform and it is obvious that some might try to breach its privacy and policies of it.
Omegle has its own community guideline and if someone breaks it then the user will be banned from the site either temporarily or permanently.
It depends on what policy has been violated by the user. But the most common mistake people make is showing prohibited things on the camera.
Omegle strictly opposes showing sexual content on video chat and people does this mistake again and again. As result, they got banned from the platform either permanently or temporarily.
Here are the community guidelines of Omegle that must be followed.
Violations of the law
Ban Circumvention
Violence and Threats
Hateful conduct and harassment 
Nudity, pornography, and sexually explicit conduct and context.
Conduct or content involving minors
Unauthorized sharing of private information.
Impersonation
Self-harm
Animal cruelty
Marketing and advertisment
bots
What site is better than Omegle
No doubt Omegle is one of the most popular platforms for random video chat but it has some limitations and lacks which is why users are looking for Omegle alternatives.
One of the main reasons why people look for alternatives is there is no authentication from the Omegle side whether a person is male or female.
Moreover, somewhere Omegle's website algorithms are lacking and because of that there are so many bots and marketing people are there.
These all could be a fair reason for decreasing popularity of Omegle.
Now, people need some really good platforms as secure as Omegle but richer in features.
Here are some alternatives you can check.
Above mentioned platforms have been quite famous in no time. If you are really looking for genuine sites to meet strangers then give it a try.
Final Words
Omegle is a reliable and free platform available since 2009. With a good user base and loyal audience, the platform is growing exponentially. Through, children below the age of 13 are advised to stay away. Hope you got the idea of what is Omegle and its features.